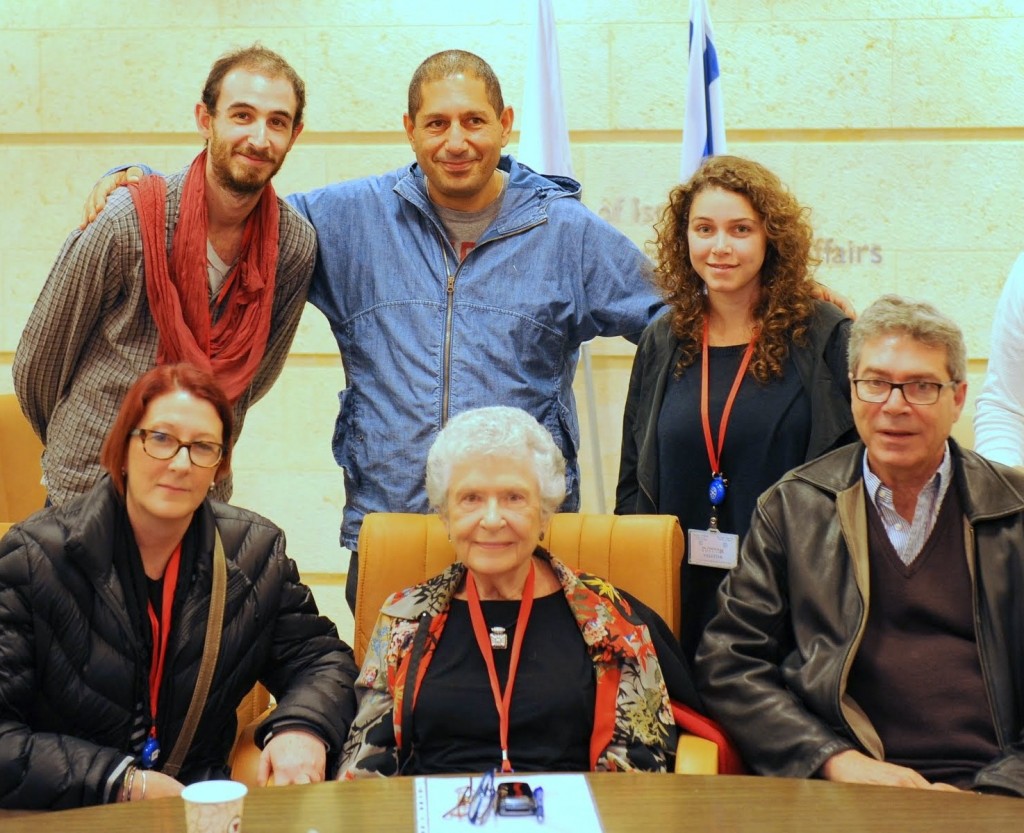 The Philippine Women's University (PWU) and the Israel Embassy in Manila held a special event where an alumna of class 1944 spoke to the class of 2014 – a journey of 70 years in a time machine.
On December 3, Margot Cassel-Pins was joined by her family in the video room of the Ministry of Foreign Affairs in Israel to address the students in the PWU Hall, sharing stories about her life journey that is heavily influenced by the Philippines. The video conference is part of the Embassy's ongoing program under the banner "Thank You, Philippines."
Pins was seven years old when she arrived in the Philippines in 1938. She was among the 1,300 Jews who owe their lives to the open-door policy and noble action of President Manuel Quezon.
The 83-year-old PWU alumna said the open hearts of Filipinos is the greatest resource of the Philippines. She said the Filipinos' readiness to accept others made an impact on her and her family.
"Very often when a stranger comes, the first reaction is one of hesitation and estrangement. We never felt that. We see smiles from our classmates who asked where we were from and included us in all their games," Pins said.
"When we learn about the resources of your country – aside from rice, wood and the great coconut – the big resource is the heart you give and the heart that oversees others, like the caretakers here who are taking care of our aged. Those are the values that I still love and respect," she added.
The PWU alumna shared that aside from Quezon's open door policy that saved Jewish people from the Nazis in Germany, she values the Filipinos' open heart policy that helped restore her family's dignity.
"I was able to go to Africa and find these wonderful people who have suffered so much – the street women who had no economic resources. I found out that when these people are given a way of life by earning their own keep in a just way, they get back their dignity. My ability to help them was a very important lesson that I simply carried on," Pins said.
To the delight of the students gathered in the PWU hall, Pins led the singing of Bahay Kubo. She also sang a few lines of her favorite song Sampaguita.
Pins also recalled learning jumping rope and playing jackstones during recess periods. She noted that her classmates patiently taught her these games and accepted her in their play group.
"Then another open heart story. I smelled what one of the girls was eating. I looked at her and I asked what it was. She said it's a hamburger. And without a moment she handed it to me and said I must eat it. It's another evidence of how from the top teachers to the students, everyone shows an open heart and open understanding," Pins said.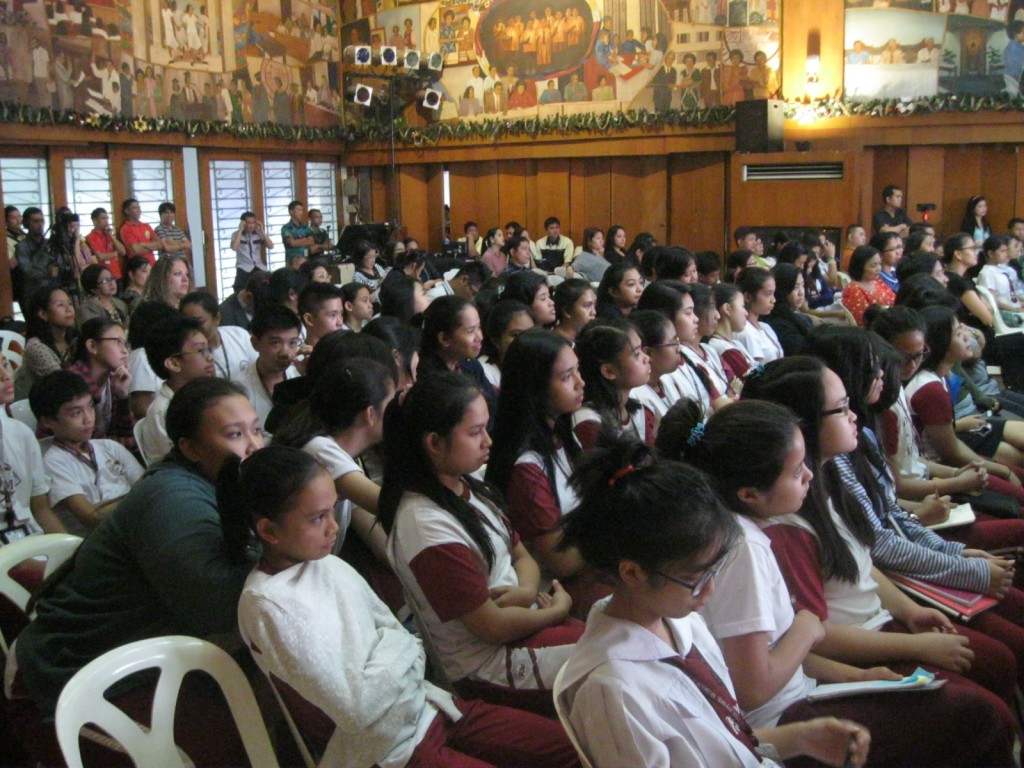 Pins also recalled that during the Japanese invasion in the 1940s, PWU closed down a few times and most of the students returned to the provinces. She added that their home building was bombed and got burned, but fortunately her family got out.
"Manila as I remembered it as a little girl was beautiful. It was marked by beautiful white homes, greens and flowering shrubs, avenues and in the middle of it were islands with trees. Manila was the pearl of the orient," she said.
When PWU reopened during her fifth grade, Pins recalled learning abaca weaving, eating green mango with bagoong, and doing morning exercises on the streets.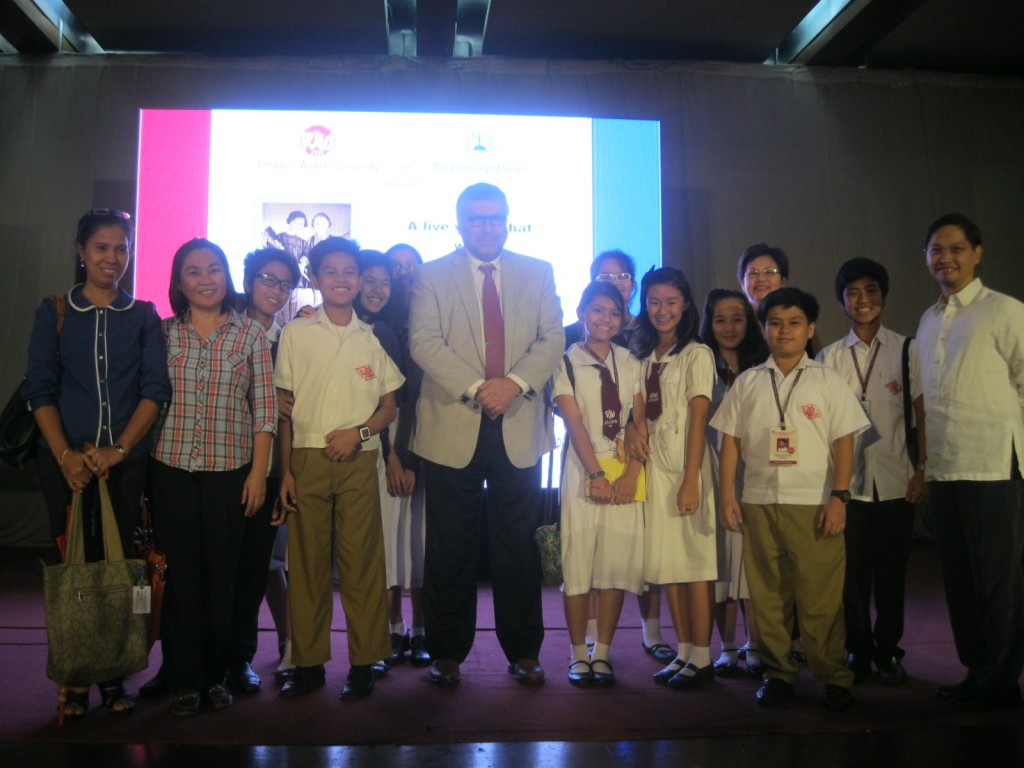 Like her classmates, Pins wore bakya even if her mother bought her shoes. "My mother had the foresight and bought shoes several sizes bigger that I would wear during the war. But I refused to wear them because I prefer bakya because all my classmates wear bakya. I will certainly not wear anything other than bakya."
As a young student, Pins learned the ideals of democracy through the student council, and heroism in the books of Dr. Jose Rizal and lessons about revolutionary Katipunan of Andres Bonifacio.
"These were formative years in my life. They made the foundation in me – getting the sense of dignity, independence and courage in one's belief. I was never made to feel less because I was a refugee or an immigrant. I was always allowed to be part of their lives. I am deeply thankful for letting me express my gratitude to you," Pins said.
PWU president Francisco Benitez said Pins' story attests to the cosmopolitanism and humanitarian aspect of PWU education. "We are very glad to have been part of a historic event that welcomed those in need in the 1940s," he said.
Israeli Ambassador Effie Ben Matityau, for his part, said Israel and the Jewish people have 1,301 reasons to thank the Philippines and the Philippines has 1,301 good reasons to be a proud nation in the face of the family of nations.
"Thanks to the open door and open hearts of President Quezon and the people of this country 1,300 Jewish people were saved from certain death in Europe and Margot like so many others was given a chance to live her life and create a wonderful family," Ben Matityau said in his message.
"Thanks to this very special institution of learning, Margot enjoyed an embracing environment where she was able to enjoy her childhood and get her education," he added.
END
Embassy of Israel