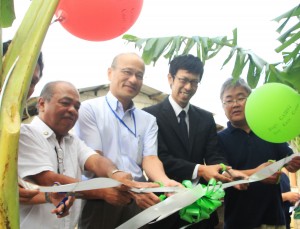 The government of Japan turned over the reconstructed daycare center and national agricultural school to the Government of the Philippines in a ceremony held on January 13, 2015 in Municipalities of Guian and Balangiga, Eastern Samar for the Japan-funded Quick Impact Projects under Urgent Development Study on the Project on Rehabilitation and Recovery from Typhoon Yolanda. The ceremony was attended by second secretary of the Embassy of Japan Koji Otani and the chief representative of JICA Philippine office Noriaki Niwa. The daycare center turn over ceremony was also attended by the vice-mayor of the municipality of Guiuan Rogelio Cablao. The national agricultural school turn over ceremony was also attended by the mayor of the municipality of Balangiga Viscuso de Lira, the deputy director general of TESDA Teodoro C. Pascua and the regional director of TESDA region 8 Cleta M. Omega. In each ceremony, the representatives of recipients expressed their deepest appreciation.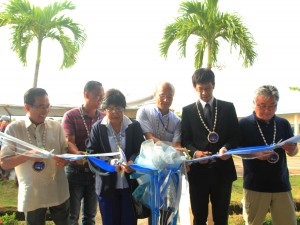 The Quick Impact Projects is composed of projects which targets restarting of economic activities, reconstruction of daily lives, and strengthening of capacities in implementing supportive measures of government organizations. This turnover is the first one among 15 such projects. Besides daycare centers and national agricultural schools, regenerating livelihood through the introduction of disaster-resilient submersible fish cages, promotion of local products to improve livelihoods, improvement of municipal capacity for disaster-resilient construction management through reconstruction of public markets and some other projects are going to be implemented. In addition to these Quick Impact Projects, hazard maps, resulting from field surveys and scientific analyses based on storm surge, wind strength and flood data, which were turned over to 18 LGUs affected by Yolanda last month, will be used in reviewing the comprehensive land use plans of LGUs with technical support from the study team.
Japan, as the top ODA donor to the Philippines as well as a disaster-prone country itself, has supported the Philippines' disaster mitigation efforts by sharing its experiences and lessons learned from past natural disasters. This project, with its policy of "Build Back Better", is expected to further foster the strategic partnership between the two countries and serve as a model for other disaster-prone areas of the Philippines.
[Related Link]
Ministry of Foreign Affairs Typhoon Damage in the Central Philippines
http://www.mofa.go.jp/region/page24e_000012.html