SAMAR –  First Secretary and Agricultural Attaché Kenji Terada attended the turnover ceremony last June 4, 2015 for the "The Project for the Construction of Regional Coconut Coir Technology and Productivity Center" and "The Project for Procurement of Equipment for Coco Coir Production and Processing" in Municipality of Catarman and San Jose Northern Samar, respectively. This is part of the Japan's Official Development Assistance (ODA) under the Grant Assistance for Grassroots Human Security Projects (GGP).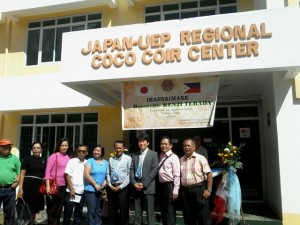 The ceremony for the Regional Coconut Coir Technology and Productivity Center was attended by Mr. Mar P. De Asis, President of University of Eastern Philippines (UEP) and other officials of the said school. Regional Coconut Coir Technology and Productivity Center was funded by the Embassy of Japan (EOJ) last FY 2011 with a total grant amount of USD 109,503 or approximately Php 4.65 million. This project involves construction of a training facility with dormitory inside the campus of UEP. The center will house the skills trainings for coconut farmers focusing on processing their coir fiber products into coco mattresses, carpets, ropes and nets to help them increase their income. It planned to conduct at least 50 trainings to around 350 coconut farmers in its first year of operation.
The turnover ceremony for Project for the Procurement of Equipment for Coco Coir Production and Processing in the Municipality of San Jose, Northern Samar was attend by Hon. Gary Lavin, Vice Governor of Northern Samar, Hon. Damian T. Luzon, Municipal Mayor of San Jose, Mr. Ferdinand T. Luzon, President of Aksyon Kalinga Para sa Masa Inc. and other representatives from the Philippine Coconut Authority (PCA), Department of Trade and Industry (DTI), Department of Science and Technology (DOST) and Department of Labor and Employment (DOLE). The EOJ contributed USD 68,439.33 or approximately Php 3.04 million last FY 2013. This undertaking involves procurement of machineries and equipment for the establishment of a village level coco coir processing facility. It aims to provide additional income to at least 1,600 coconut farmers in San Jose through the production of coco fibers.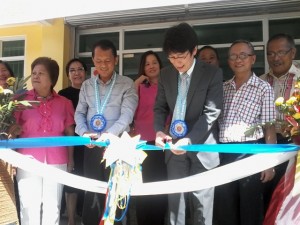 With the above projects, the EOJ hopes to contribute to the development of coconut industry in Northern Samar. The facilities provided is seen to paved the way for the introduction of value adding activities for coconut to tap the growing demand of industrialized countries for erosion control mats, geotextile and bioengineering products. As a means to provide additional income to coconut farmers, these projects are also a way of creating livelihood opportunities to their residents thereby contributing to the reduction of poverty in the province.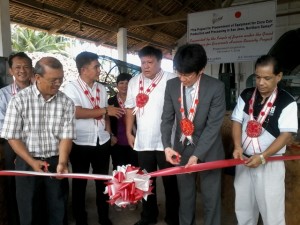 The Government of Japan, as the top ODA donor for the Philippines, launched the Grant Assistance for Grassroots Human Security Projects in the Philippines in 1989 for the purpose of reducing poverty and helping various communities engaged in grassroots activities. At present, 512 grassroots projects have been implemented by GGP. Japan believes that this project will not only strengthen the friendship between the peoples of Japan and the Philippines but also contribute to further fostering a strategic partnership between Japan and the Philippines toward the future. (Eagle News Service/Embassy of Japan)