QUEZON City, Philippines (January 10) – As of January of 2016, the total population of the Philippines reached 101,498,763 and the Bureau of Internal Revenue  Deputy Commissioner for Operations, Nelson Aspe noted that thirty percent or thirty million of which are registered taxpayers. Taxes serve as the main source of our country's revenue. Individual tax – along with other forms of taxes – is the fuel used by the Philippine government to support each and every project that they have for the country. Nevertheless, the enormous amount of tax being collected can also become the root of corruption in our country – especially under the jaundiced eyes of the unscrupulous.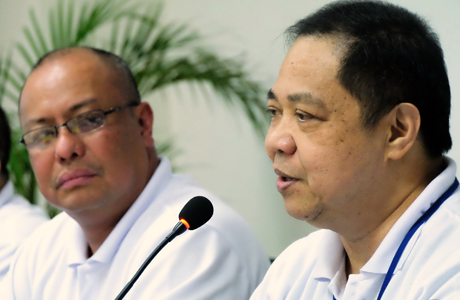 Corruption is like a relentless disease that continues to infect the lives of each and every Filipino. As of today, you could hear Filipinos say that their trust towards politicians had declined severely, that everyone in position has their own personal agenda that's why they are in the world of politics. Perhaps, it has become an impossible task to stop corruption in the Philippines because the Filipino people have lost their trust and hope in the elected officials. However, the good among the politicians are trying earnestly to regain the trust of the Filipino people. From these good intentions, the idea of a law regarding Freedom of Information was born.
The previous administration had been a strong advocate of transparency among government offices and officials that they proactively disclose budget and project documents. Those acts are totally congruent to purpose of the Freedom of Information Bill that recognizes the right of the people to information on matters of public concern, and adopts and implements a policy of full public disclosure.  Prior to the said bill,  section seven of the Bill of Rights of 1973 Constitution provided that right of people to information on matters of public concern shall be recognized. Access to official records and to document papers pertaining to official acts, transactions or decisions shall be afforded to citizen subject to such limitations as may be provided by law. In addition, Code of Ethics of government officials mandates public access to financial disclosure statements of government officials. Said code also makes it the obligations of public officials and employees to make documents accessible to public.
Senate Bill No. 1733 or the Freedom of Information Bill will give every Filipino citizen the right to access any record under the control of a government agency. Part of its scope is the access to financial information such as Statement of Assets, Liabilities and Net Worth or SALNs of government officials and access to other kinds of information such as transactions by incorporating a provision making the posting/publication mandatory. In this way, Filipino citizens can be made aware if their chosen leaders are using their allotted budget for their projects properly.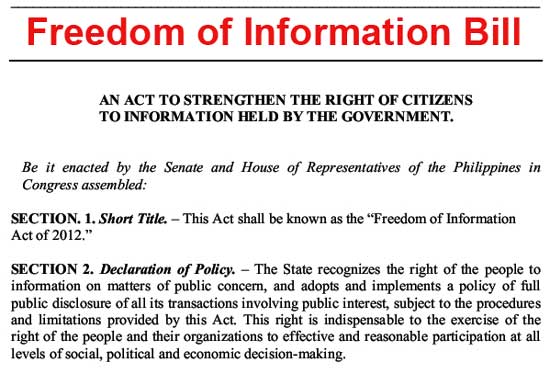 With transparency as its main purpose, FOI is now being considered as a game changer in the world of politics. Politicians will now be mandated to disclose their total assets and liabilities. Corruption might be reduced and eventually be eradicated because the people will now have access to additional information regarding the leaders of our country. Such information may then serve as the criteria for choosing who our country's next leaders will be.
It is just so uplifting to know that in a country where corruption is as common as getting stuck in traffic on your way to school or work, there are still these few politicians who want to reclaim the trust of the public and be true to their promise of being a public servant with integrity. The main challenge though is the strict implementation of this bill.
(written by Aronica Azores, edited by Jay Paul Carlos, additional research by Vince Alvin Villarin)