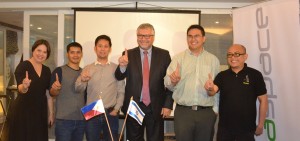 DLD Tel Aviv Digital Conference, Israel's largest international hi-tech gathering, is looking in the Philippines for innovative ideas. The gathering is a showcase of the best startups that will be the future trailblazers in the technology market. DLD brings together venture capital funds, investors, inventors and leaders who are the foundations of the hi-tech industry.
This is the first time that the Philippines will participate in this international gathering which will be held from September 6 to 12, 2015. The winner will be able to present his innovative idea to industry leaders who may help move the idea to implementation, commercialization and recognition.
IdeaSpace Foundation, a non-profit startup incubator, and Embassy of Israel are launching a competition and search for the best innovative idea to represent the Philippines in this international event.
The foundation and the embassy are encouraging qualified individuals to submit applications with a deadline on June 30, 2015. The winner will receive a full travel package including round-trip airfare and accommodation to Israel during the international event.
"This is a great opportunity for Philippine startups to once again shine in the global stage," said Earl Martin Valencia, President and Co-Founder of IdeaSpace. "Tel Aviv is a city that's brimming with innovation, and the Philippine startups representative to this conference stands to gain a lot of insights, possibly investments, as the world of startups converges during this week-long event."
"Tel Aviv, like Israel, is an entity that is marked by the aspiration for excellence in innovation. The economy of the future will be totally dependent on creativity and hi-tech. The startup ecosystem created in Israel is a source of emulation and presents opportunities for partnerships on the international level," said Israel's Ambassador Effie Ben Matityau. "Considering the Philippines' aspiration, its participation in this international gathering and in general the growing cooperation in the field of technology will add to its capacity in the hi-tech arena."
Application Process
In order to apply, certain prerequisites need to be fulfilled. Interested startups need to have revenue of less than 30,000 USD, raised investment of less than 100,000 USD, and have at least a working prototype.
Applicants must fully complete an online form; and submit a strict two-minute video pitch that contains information about their startup, why their startup should be chosen to represent the Philippines, and their expectations from the conference.
These applications will be reviewed by representatives from both IdeaSpace Foundation and Embassy of Israel, and will undergo a two-stage screening process. During the first round, a group of pre-selected judges will review the applications. Qualifiers for the second review will be invited to a public event for a five-minute pitch, live demo of their product, and question and answer.
The winners will be announced publicly on July 10, and will receive a round-trip airfare ticket, hotel accommodation and access to the DLD Tel Aviv Digital Conference. Additionally, winners are also expected to organize a public event and speak about their learning insights from the conference, to share the knowledge to fellow Filipinos.
As the startup scene in the Philippines has been growing rapidly in the past few years, both IdeaSpace Foundation and the Embassy of Israel are optimistic to receive high-quality applications for this one-of-a-kind conference. (Eagle News Service/Embassy of Israel)