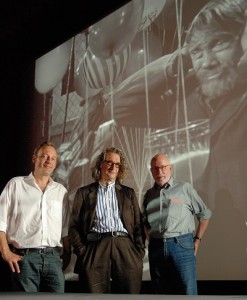 MANILA – Through German cinematic history we go!
The Goethe-Institut will be running a new series entitled "Glimpses of German Film History" featuring films about the pillars of Germany's hundred-year history of cinema. The screenings will take place every Wednesday at 6:00pm starting July 29 until September 23 at theGoethe-Institut.
Headlining the nine-part cycle is the documentary Auge in Auge ("Eye to Eye") by Michael Althen and Hans Helmut Prinzler, which explores the essence of German film and in the process features numerous acclaimed German filmmakers who talk about their personal favorites. The subsequent films are works by or involving the people interviewed or featured in Auge in Auge.
The series aims to present the films in a fresh context. By anchoring them to the documentaryAuge in Auge, the films are showcased not only as the masterpieces that they are, but also as important milestones in the history of German cinema.
The films don't stick to one genre nor to one point in time. After the opening documentary, subsequent movies will be full-length features comprised of dramas, historical films and even one from the former communist East Germany, each of which presents an aspect – or as the title suggests, a glimpse – of German history and everyday life.
Admission to all screenings is free and open to the public. The Goethe-Institut is housed in theAdamson Center, 121 L. P. Leviste St., Salcedo Village, Makati city.
For the full schedule and synopses, go to the Goethe-Institut website at www.goethe.de/manila or send an e-mail to program@manila.goethe.org. (Eagle News Service/Goethe-Institut Manila)