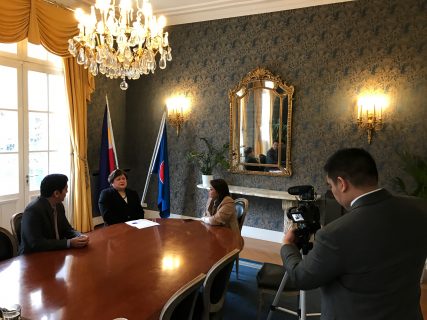 As the French people decide who will be their next president between young centrist Emmanuel Macron and far-right leader Marine Le Pen in their election today, May 7, 2017, Philippine Ambassador to France, Her Excellency Ma. Theresa P. Lazaro has long warned the Filipinos in France to anticipate the impact of this electoral change.
"This country is a very good host, an excellent and generous host to our people," the Ambassador explained. "Until when will this be, that is the question," she, however added, noting the political climate that is about to happen in France with its presidential elections.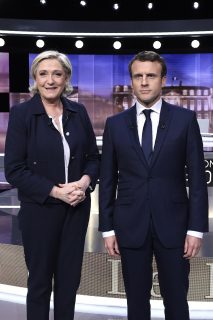 Speaking with EBC executives who paid a courtesy visit to the Philippine Embassy in France last March 15, 2017, Lazaro highlighted the significance of the diplomatic relationship between the two countries and the activities related to the 70th anniversary of the bilateral relations between the Philippines and France, including its role in realizing the United Nations Sustainable Development Goals (UN SDGs).
Filipinos in France
"I am not frightening them, but they have to be prepared for changes in (French) government," she stressed.
There is an estimated 20,000 Filipinos living in France, half of it are in Paris while the rest are in the south.
"There has been an issue on human trafficking and therefore, documents are not in their proper order which means passports are in a different name, different age, and so forth and so we encourage them to do their Philippine documentation properly," Ambassador Lazaro said.
"We have seen and read her announcements about France getting out of the EU, France stopping migration, that France will deport all those who are not nationals. These are bothersome and might affect our Filipinos here," the Ambassador explained.
She further noted that we in a precarious situation. "We have President Trump in the US and there has been a lot of concerns from our Filipino Americans and I guess it could be the same situation here," she said.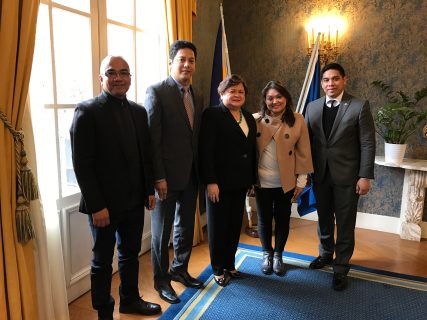 Very generous
According to Ambassador Lazaro, if something happens to Filipinos, the Embassy is sometimes the last to know because there are French NGOs who help including their hospitalization. "The French government, this country has been a very good host to our people. Very generous, she said.
"Ang mga kababayan natin, trabaho ng trabaho yan, wala na silang panahong magbasa, so these are the opportunities to inform them of what's happening. I am not frightening them they just have to be prepared," the Ambassador warned.
Reaching out to the Filipino community
Part of the Embassy's efforts to address the Filipino community's concerns is the conduct of Consular Outreach Missions in Marseille and Nice.
While the majority of Filipinos are working as domestic helpers, there is a growing number of professionals and students. France welcomes around 200 Filipino students every year and are enrolled in various French universities such as Sciences Po, Université Catholique de Lille, Université Sorbonne Nouvelle Paris 3 and Queen Mary University of London, among others.
Prior to the EBC's courtesy call in Paris, French ambassador to the Philippines Thierry Mathou visited the news studio of EBC in Quezon City to highlight the diplomatic relationship between France and the Philippines. (READ: https://www.eaglenews.ph/asean-perspective/french-ambassador-highlights-common-values-shared-vision-in-70th-year-of-phl-france-bilateral-relations/)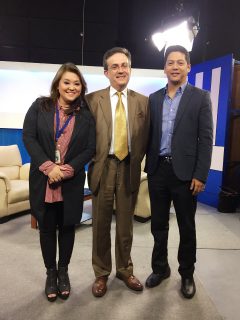 In Paris, the EBC executives visited the headquarters of the United Nations Educational, Scientific and Cultural Organization (UNESCO) to learn more about the role of Education in Sustainable Development Goals.
The UNESCO headquarters displays various sculptures and artworks from other countries. Ambassador Lazaro announced that as part of the 70th Anniversary, a Philippine artwork will be featured in its grounds. "A sculpture installation by Filipino visual artist Impy Pilapil will soon rise in the grounds of UNESCO," Lazaro said.
Lazaro also announced that the Philippine Embassy would be installing a bust of the Philippine national hero in Place Jose Rizal in 19th Arrondissement in Paris. "It is a recognition of the Filipino-France relationship and will serve as a magnet to a lot of Filipino tourists in France," Lazaro said. Jose Rizal spent time in Paris, not only in Spain with other Filipinos including Resurreccion Hidalgo and Antonio Luna. "Rizal was here, and the bust commemorates the ideals that he learned in France," she added.
Activities to commemorate the milestone
Ambassador Lazaro organized various activities to commemorate the 70th anniversary milestone.
One of these is the seminar on "Philippine Oral Traditions and Literature" conducted by Filipino Professor of Philosophy, Mr. Eduardo Jose Calasanz last April 21.
According to the statement issued by the Philippine Embassy in its Facebook account, Prof. Calasanz, who conducted the seminar in French, "had presented to the audience the features of the various forms of Philippine oral traditions and literature and emphasized how the Filipinos' culture and own day-to-day experiences had enriched their spoken word and written text, arriving at masterpieces which are distinctly Filipino."
The Embassy is also planning the June 12th National Day celebration at the Musée National de la Marine in Trocadero.
"I don't think there is a book that describes Philippine-France relations. There were about 15 French people who were part of Magellan's navigation. So we are launching a book on Philippine-France relations from the 16th century to the present day," Lazaro said.
A screening of Philippine animated short films at the Fête du cinéma d'animation is also being arranged as part of the celebration. There are about six to seven shorts that will be screened. While we are recognized as the best animators, Filipinos are known for animation drawings. But now, we are also asked to produce content for animation," Ambassador Lazaro exclaimed.
The Filipino film "Death in the Land of Encantos" by Lav Diaz will also be shown in Odyssée – Cinéma de Strasbourg, France on May 12, 13 and 14.
Philpost and France's La Post will also unveil a commemorative stamp showcasing a painting of Macario Vitalis, a native of Ilocos Sur who settled in France and whose visionary paintings were influenced by French Post-Impressionism.
According to Ambassador Lazaro, while internationally-renowned pianist Raul Sunico has already performed in Paris, he will be back in France to perform in Bordeaux and Strasbourg to celebrate the friendship between the two countries. "It is our way of telling French of our artistic abilities," she said.
"Let us continue to learn to nurture this relationship. There is much to learn from France and the French to learn from us. It is about knowing us better that will they will understand our culture and also our process of knowing them better," the Ambassador ended.
-Caesar Vallejos