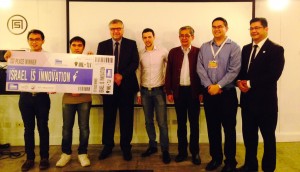 MANILA – The founder of an electronic heat stress analyzer in farms won the joint IdeaSpace Foundation-Israel Embassy competition "Israel is Innovation" which will take him to Israel for a special gathering for young innovators and startups looking forward to make a splash in the world stage of innovation and entrepreneurship. Franch Maverick Lorilla will represent the Philippines in the DLD Tel Aviv Digital Conference, Israel's largest international hi-tech gathering, on September 6 to 12, 2015.
Lorilla's heat stress analyzer is an electronic device that observes, automates and gives detailed analysis of farms for an improved harvest. Lorilla will receive a full travel package including round-trip airfare, hotel accommodation and access to the DLD Tel Aviv Digital Conference.
"We look forward to this representation and bring back what you learned in Israel. This is the culmination of what we hope can be a yearly event," said Earl Martin Valencia, President and Co-Founder of IdeaSpace Foundation, a non-profit startup incubator.
"We hope to create an environment of innovation and entrepreneurship. Tel Aviv is one of the biggest hubs of innovation. The startup ecosystem in Israel presents opportunities for partnerships on the international level," said Israel's Ambassador Effie Ben Matityau. "The Philippines' participation in this international gathering and in general the growing cooperation in the field of technology will add to its capacity in the hi-tech arena."
"I am excited to see world-class digital solutions developed by Filipinos. I am confident our Philippine winner makes would make good in the Tel Aviv finals but, more importantly, bring back excellent learnings from there," said Deputy Executive Director Monchito Ibrahim of the Department of Science and Technology's ICT Office.
A total of 26 startup founders submitted their applications in the competition. Seven of them were invited to present their ideas to a panel of judges composed of Ambassador Ben Matityau; Deputy Executive Director Ibrahim; Anton Mauricio, Vice President of the Israel Chamber of Commerce of the Philippines; and Judah Hirsch, founder of Salarium. (Eagle News Service/Embassy of Israel)