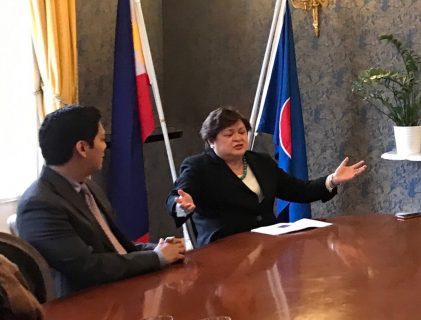 By Caesar Vallejos, EBC Correspondent
"I urge the Filipino community to ensure that their Philippine documentation is always in order," Philippine Ambassador to France, Her Excellency Ma. Theresa P. Lazaro said after pro-EU centrist Emmanuel Macron won a decisive victory in the recently concluded presidential election.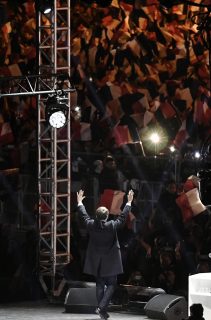 "I urge the Filipino community to continue following the rules and regulations of the host country, France," the Ambassador stressed in her email to EBC.
According to Lazaro, "we have to be conscious that there are many issues such as terrorism and high local unemployment that may continue to impact on French policies towards migrants."
"We have to monitor these closely," she said.
Soon after Macron won the French presidency, Philippine President Rodrigo Duterte conveyed his congratulations to France's youngest president.
"President Duterte said that France is a major economic partner in Europe and that he hoped to enhance Philippine-France relations.  Echoing President Duterte's message, I believe there is a lot of optimism for the new French president," Lazaro said.
Opportunities for migrant communities
Lazaro believes that with President Macron's platform to revitalize ties with Europe and engage the rest of the world, "there is a huge potential for this openness to extend to the different migrant communities in France, including the Filipino community."
She mentioned that many members of the Filipino community in France have been able to integrate well and contribute positively to the French economy and society.
"I hope that under a Macron presidency, the warm and generous hospitality of France to the Filipinos and other migrant communities continues," Lazaro said.
Philippines-France 70th anniversary celebrations
According to the Ambassador, the French audience warmly received the Philippine Embassy's lecture on Philippine oral and literary traditions conducted in French by Ateneo de Manila Professor Eduardo Calasanz last April 20, 2017.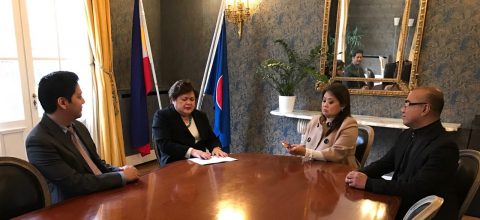 This coming June marks the 119th anniversary of the declaration of Philippine independence and also the 70thanniversary of the establishment of the country's diplomatic relations with France.
"We intend to hold a number of events in June to commemorate these milestone events.  These include a get-together with Filipino community leaders and representatives at the Embassy and another diplomatic reception for French officials and other guests," Lazaro announced.
"During this National Day Reception, we intend to unveil the designs for the joint commemorative stamp issuance of the Philippines and France.
The stamps will feature the painting of Filipino painter Macario Vitalis and French painter Jacques Villon who was one of those who influenced Vitalis' works during his stay in France.
"We also plan to participate in the Fête de l'animation 2017 where selected Filipino short animation films will be featured," the Ambassador added.
Lazaro is anticipating that this event will open more opportunities for Filipino talent in animation and content to be more widely recognized and utilized.
The Embassy is also preparing to welcome back internationally-renowned pianist Raul Sunico in Bordeaux and Marseille for his performances.
A commemorative book charting Philippines-France relations from pre-Hispanic times up to the present day will also be released by the end of the year.  "It will also provide a snapshot of how we envision the relations to be in the next 70 years," the Ambassador concluded.