MANILA – Two Filipino staff members of the Consular Section at the British Embassy Manila were recently honoured by Her Majesty Queen Elizabeth II for their exemplary work in the aftermath of Typhoon Yolanda (International Name: Haiyan).
Vice Consul Victoria Buenaventura and Pro-Consul Joanna Teh have been awarded an MBE, conferring them as Members of the Order of the British Empire for their exemplary service to the British community and to the victims of Typhoon Yolanda.
The Order of the British Empire recognises distinguished service to the arts and sciences, public services and work with charitable and welfare organisations of all kinds.
As Her Majesty The Queen's representative, British Ambassador Asif Ahmad conducted an investiture ceremony during the Queen's Birthday Party celebration held recently at the British School Manila.
British Ambassador Asif Ahmad congratulated the two women, recounting the work they have done to assist Britons and their families after Typhoon Yolanda. "In the immediate aftermath of Typhoon Yolanda, people of Britain responded generously to come to the aid of victims in the Philippines. For many, there was the added anxiety of not hearing from their own relatives and friends who they believed might have been in the path of the biggest cyclone in history. It was in the midst of this uncertainty and difficulty that our two staff members from the British Embassy went to Leyte and Samar. Their own courage and resilience and professionalism meant that we were able to account for all those who were reported as missing and those who needed help. In their daily work, both of them continue to meet the needs of British citizens who live, work or travel to the Philippines. The demands can range from dealing with bereavement to help with lost documents. Victoria and Hannah's work has been recognised by Her Majesty the Queen and it is a source of great pride to us all."
Victoria Buenaventura said that, "For me I was only doing my job as a consular officer. I knew I did it well, to the best of my ability and mindful of diplomatic excellence but did not expect this recognition. The implication of belonging to an "elite" company, as I was told it was, is just beginning to sink in."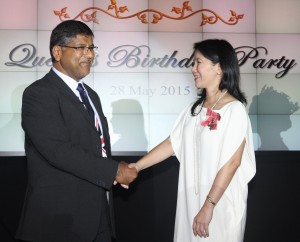 Ms Buenaventura was deployed three times with Rapid Deployment Teams in different cities after Typhoon Yolanda. "We usually worked 16-hour days," she recalled. She and Ms Teh endured many challenges, including difficulties in coordination and lack of transportation, which understandably occur during calamities of this magnitude.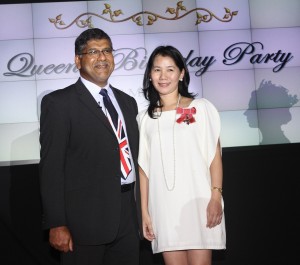 Joanna Teh felt blessed to receive the award, "It is indeed a great source of pride which I would like to share with my family, to the consular and crisis team who have worked very hard during Typhoon Haiyan and of course to the Filipino people but all praises and honour only belong to our God. To Him be the glory!"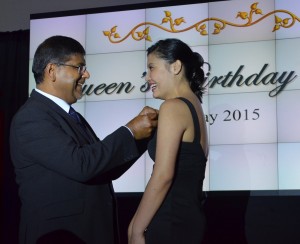 "This award is a deserved recognition of the tremendous effort Victoria and Hannah made to help our crisis teams search for and help the dozens of British nationals who were affected by Typhoon Yolanda. Without their vital work, in this most difficult and extreme of environments, we would never have had the same level of success in finding and helping British nationals in the affected area. It is a great tribute both personally for Victoria and Hannah and also to the calibre of our local staff. I am very proud of them," said Brendan Gill, HM Consul at the British Embassy Manila. (Eagle News Service/British Embassy Manila)