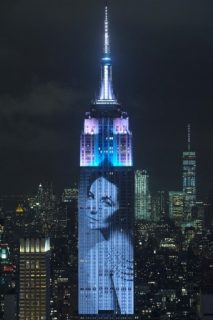 NEW YORK, United States (AFP) — New York's famed Empire State Building lit up with sky-high iconic fashion photographs after nightfall on Wednesday to celebrate the 150th anniversary of style magazine Harper's Bazaar.
Beginning at 8:30 pm (0030 GMT Thursday) and slated to run until midnight, the north side of the building flashed iconic shoots and cultural moments from the pages of Harper's into the New York skyline.
Among reproductions of the glossy pages set to shine over Manhattan, and streamed live on the magazine's Facebook page, was Barbadian superstar Rihanna sitting in the mouth of Jaws.
Since 1976 the Empire State Building has traditionally changed the color of its tower lights to celebrate or commemorate different occasions and organizations throughout the year.
In 2012, they installed a new computer driven LED light system capable of displaying 16 million colors, which can change instantaneously.