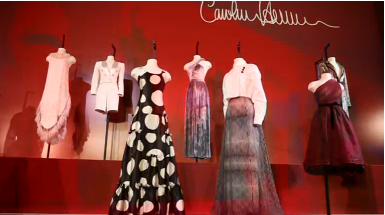 NEW YORK CITY, United States (Reuters) — Veteran designer Carolina Herrera was honored by the Lincoln Center Corporate Fund on Tuesday (December 6) for her 35-year and counting, contribution to the fashion industry.
Herrera was presented with "The Women's Leadership Award" by Harper's BAZAAR editor in chief, Glenda Bailey.
"Coming from Lincoln Center, I think is one of the cultural places of New York, it means a lot," said Herrera on the red carpet.
A celebrity favorite, actresses Christina Ricci, Julianna Margulies and Emmy Rossum came out to help Herrera celebrate.
"I think you can feel when something is authentic and Carolina started designing for a woman like herself. She's modern, she's a New Yorker, she's feminine, she's classy, she's sensual. She's confident and smart and I think that that's the way she makes you feel when you wear her clothes," said Rossum.
The evening included a one-night only exhibition of looks from some of the designer's past collections and a special performance from Diana Ross.
The annual fundraising event title 'An Evening Honoring…' supports "ten resident arts organizations on the Lincoln Center campus."