Dr. Michal Lukeš, the Director General of the National Museum of the Czech Republic, visited Manila last week to visit various museums and institutions and to explore possible Czech-Philippines cultural collaborations in the future. This marks the very first visit of the Director General of the biggest Czech cultural institution to the Philippines.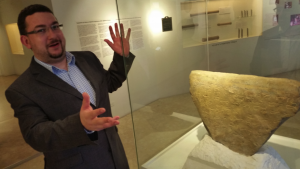 Director General Lukeš hopes to introduce the Czech cultural heritage to the Filipino people by establishing ties with local institutions with the assistance of the Embassy of the Czech Republic in Manila.
During his visit to the National Commission on Culture and the Arts (NCCA) on 11 February, Director General Lukeš was received by Chairman Felipe de Leon, who expressed his optimism on the future of Czech-Philippines cultural ties. Director General Lukeš toured the National Museum, and had substantive talks on possible cooperation with the directors of the Ayala Museum and the Metropolitan Museum of Manila as well.
Czech Ambassador Jaroslav Olša, jr. is enthusiastic about this development, especially noting that "following the signing of the Czech-Philippine Agreement on Cultural Cooperation in 2013, this visit (of Director General Lukeš) can set a good precedent for close cooperation between our two countries in the field of museology, which has been virtually non-existent prior to this visit."
The Czech National Museum recently started a series of presentations on the history and material culture of various countries around the world. "This year exhibitions made in cooperation with our partner National Museums are held on history and material culture of Azerbaijan, Bhutan and Afghanistan. More are being planned for the forthcoming year from Sudan and South Korea," said Director General Lukeš during the meeting with key people in the field of arts, culture and history in the Philippines at the Czech Ambassador's residence.
The Czech National Museum, the central state museum established in 1818, is a polythematic institution which houses more than 20-million collection items across the fields of nature, history, mineralogy, geology, paleontology, zoology and other sciences. The integral parts of the museum are among others also the Náprstek Museum of Asian, African and American Cultures and the Czech Museum of Music. The Czech National Museum is the largest museum in the country, accumulating collections not only of historical value, but of scientific value as well.