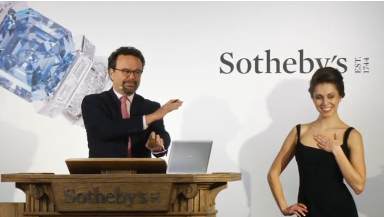 GENEVE, Switzerland (Reuters) — Coloured diamonds fetched high prices on Wednesday (November 16) at Sotheby's semi-annual jewel sale, with rare and large pink and blue stones finding new owners who paid in the double-digit millions for "rare treasures".
A step-cut fancy intense pink diamond weighing 17.07 carats, set in a ring between triangular diamonds, netted $20.8 million, far exceeding its estimate of $12 to $15 million, to become the top lot.
"The pink diamonds performed extremely well. The intense pink 17.07 carats sold for 20.8 million – far more than its estimate, I think that was double its estimate – as did the stunning intense pink diamond of 13.2 carats which fetched 16.2 million dollars. And the fancy light pink, a 40 carat stone which sold for 7.5 million, all three of these were extraordinary high prices. So, coloured diamonds are very much in demand still and very healthy," David Bennett, worldwide chairman of Sotheby's International Jewellery Division, told reporters.
"I think that people who want the rarest and the most beautiful are seeking out these rare treasures", he added, after conducting the auction at a Geneva lakeside hotel..
The "Sky Blue Diamond", an 8.01 carat rare large blue stone set in a ring by Cartier, sold for $17.06 million. Even after fees had been deducted, it still garnered almost $15 million – almost reaching its estimated price of between $ 15 and $20 million.
The buyers were not immediately identified.
In all, the Sotheby's sale netted $136.39 million, with 87.4% of the 341 lots sold. Four pieces brought more than $10 million each.