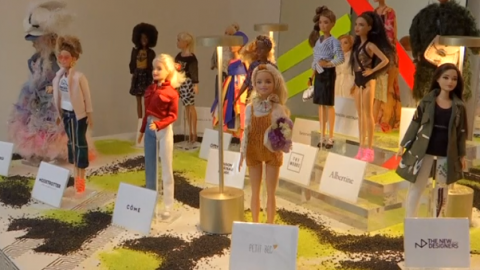 PARIS, France (Reuters) — French fashion designers have given Barbie a makeover, transforming her into a fashionista sporting a collection of miniature outfits, hairdos and accessories on display in a Paris gallery on Friday (October 20).
Some 15 designers were given free rein by Barbie to style the iconic doll, resulting in a wardrobe ranging from Brazilian-inspired bohemian swimwear, traditional African dress with an urban edge, and a classic, comfortable Parisian style.
Swimwear and lingerie brand Albertine dressed Barbie in a sparkling bronze and black swimsuit over bright pink sneakers, and 80's style crimped hair.
Hipanema's Barbie brought the sunshine of Rio de Janeiro, with both an elegant and hippie-style bikini.
Paris-based children's clothes designer Olivia Belanger, who dressed her doll in a knitted orange jump suit, told Reuters TV it was a difficult task sewing clothes for such a small object.
Barbie has created more than 100 new dolls since 2015 to represent greater diversity, introducing new figurines in a range of body types and skin tones.
In 2016, toymaker Mattel began making three new Barbie bodies – petite, tall and curvy, alongside an expanded range of hairstyles and outfits.
Even Barbie's long-term boyfriend Ken has been given a makeover, introducing slim, broad and classic silhouettes and man buns, cornrows as well as bleached blond hair.
Mattel's new launches come amid declining sales of Barbie dolls around the world as girls increasingly turn to other dolls and electronic toys.