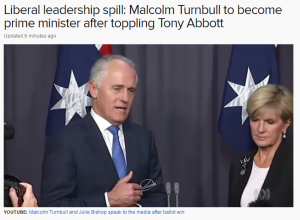 (Eagle News) — Australian Prime Minister Tony Abbott was ousted as leader of the Liberal Party late Monday night Sept. 14,  in a hastily-arranged party leadership ballot where his cabinet minister, Malcolm Turnbull, edged him out by just 10 ballots.
Turnbull got 54 votes over Abbott's 44, making him Australia's 29th prime minister.
The Liberal Party however retained Julie Bishop as deputy leader after she won in ballots with 70 votes over her rival Kevin Andrews who got only 30 votes.
Turnbull and Bishop met the press together after the voting.  Australia's ABC news said the "Liberal party room met for just over 30 minutes tonight to decide the leadership."
"Thank you all very much. Julie and I are sorry to keep you up so late. This has been a very important day in the life of the nation, the Government and of course of our party. As you know, the party room a little while ago elected me as leader of the Liberal Party and re-elected Julie as the Deputy Leader of the Liberal Party." Turnbull was quoted by Australia's ABC news as saying on Monday night at around 10:30 p.m., Australia time.  (Australia is two hours ahead of the Philippines).
"I want to say at the outset what a great debt the nation owes and the party owes, the Government owes to Tony Abbott and of course, to his family Margie and their daughters," Turnbull said after the voting.
"The burden of leadership is a very heavy one. Tony has discharged that as leader of the party and, of course, as Prime Minister over many years now and the achievements of the Government that he has led have been formidable. The free trade agreements that have been negotiated represent some of the key foundations of our future prosperity which I'll talk about in a moment.
"And, of course, restoring the security on our borders has been an extraordinarily important step enabling us, for example, to offer the increased and generous arrangements for Syrian refugees last week.
"So I want to thank Tony very much indeed for that," Turnbull said.
Deputy leader Bishop congratulated Turnbull for his victory.
"I want to congratulate my very dear friend of many years Malcolm Turnbull on being voted in as the leader of the Liberal Party.   "That means he will become the Prime Minister of this country and I'm confident that he has the passion, the energy and the vision to lead this country at this very challenging time, "  she said.
ABC News 24 also tweeted what would be tomorrow's (Tuesday's) headline for The Daily Telegraph, entitled "Turnstile."  The cover reads:  "Malcolm knifes Tony to win 54-44 in party room vote to become our fifth PM in five years."
In the news stands for Tuesday, Sept. 15, the Daily Telegraph's first line reads:  "Australia today wakes up to its 29th prime minister after Malcolm Turnbull deposed Tony Abbott by 10 votes following another night of political bloodshed in Canberra.  Julie Bishop, who played a pivotal role in the coup, kept her job as deputy leader."
After meeting the press and making the announcements on Monday night, Turnbull said:  "The hour is very late. Everyone should go to bed. Thank you very much."
Turnbull served as Minister for Communications under Abbott, before he resigned to launch a leadership challenge a few hours before the party vote.
BBC, in describing Turnbull, said "many in his party dislike his support for climate change action and gay marriage."
Before he called for a party vote,  Abbott vowed to fight Turnbull's challenge which he had termed as a "destabilization" move.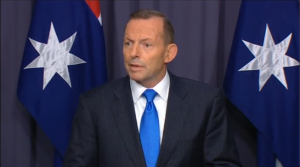 "Obviously, I am dismayed by the destabilization that's been taking place now for many, many months and I do say to my fellow Liberals that the destabilization just has to stop. Let me finish on this note, I firmly believe that our party is better than this, that our government is better than this and by God, our country is so much better than this. Thank you," he said at a news conference earlier Monday.
Australia in recent years has been convulsed by backroom machinations and party coups that have shaken public and business confidence in government.  Australia has a parliamentary system of government where leaders can be changed by party votes. (with reports from ABC news, Reuters)