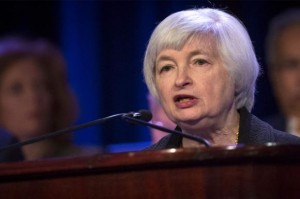 (Reuters) – A slumping housing market and geopolitical tensions risk undermining the U.S. economy and bear close watching by the Federal Reserve, the central bank's chief said on Wednesday.
In testimony to Congress, Fed Chair Janet Yellen repeated her stance that the economy was still in need of lots of support given the "considerable slack" in the labor market.
While she offered few new clues on the direction of interest rates, Yellen broke ground in outlining the risks facing the economic recovery.
Her mention of geopolitical tensions as a "prominent risk" suggested the Fed was worried the Ukrainian conflict could weigh on the U.S. economy, while her assessment of housing signaled the sector's slowdown was also a gnawing concern.
"The recent flattening in housing activity could prove more protracted than currently expected," Yellen cautioned.
In general, her testimony to the Joint Economic Committee underscored the Fed's commitment to keeping benchmark overnight interest rates near zero for some time to come.
"The only different language that I caught was her sentence that housing activity has remained disappointing so far this year and bears watching," said Roberto Perli, a former Fed official and a partner at Cornerstone Macro.
In the two statements the Fed's policy-setting panel has issued since Yellen took the central bank's helm in February, it has taken note of the slow housing recovery. On Wednesday, Yellen offered greater detail.
"Mortgage rates went up quite a lot over the spring and summer," she told the lawmakers. "They are still quite low by historical standards, so in that sense housing remains affordable, and I expect housing to pick up."
"But … a recovery that seemed to be in progress really has now flattened out."
EYE ON JOBS MARKET
Financial market reaction to the testimony was relatively muted, with the S&P 500 stocks index trading up slightly in early afternoon.
Prices for U.S. government debt rose, and futures markets showed traders pushed back their expectations for a first Fed rate hike to July 2015 from June 2015. That is in keeping with a Reuters poll of big bond dealers released on Tuesday that showed more than half do not expect a rate hike until the middle of next year or later.
A week ago, the Fed reduced its monthly bond purchases to $45 billion from $55 billion, keeping the stimulus program on a path to be fully wound down by year end. But it also stuck to its assessment that the economy would need near-zero interest rates for a "considerable time" after the asset purchases end.
Yellen stuck with that message, and in a back-and-forth with the committee's chairman, Republican Representative Kevin Brady, refused to be pinned down on how quickly the Fed might move.
She said she expected the economy to expand "somewhat" faster than last year and repeated her view that inflation persistently below 2 percent poses a risk to the country's economic performance.
Even as she took note of "appreciable" improvements in the jobs market, Yellen said a high rate of long-term unemployment and a slow rise in worker pay suggested plenty of room for further job gains.
In April, U.S. employers hired workers at the fastest clip in more than two years while the jobless rate hit a 5-1/2 year low of 6.3 percent. The drop in unemployment, however, reflected Americans giving up the hunt for work, extending a trend that has been an unfortunate hallmark of the economy's recovery.
Yellen expressed faith that at least part of the decline in labor force participation could be reversed. She also said she had very little doubt that the share of Americans working part-time because they could not find full time work would come down.
Touching on financial stability, she said the Fed was aware that the extended period of low rates could fuel potentially risky investment behavior.
"Some reach-for-yield behavior may be evident," Yellen said, pointing to lower-rated corporate debt markets as an example.
She noted that issuance of syndicated leverage loans and high-yield bonds had expanded, while underwriting standards had loosened, though she said the increase risk-taking appeared modest – particularly at large banks and life insurers.
Yellen added that equity market valuations as a whole and residential real estate prices were within historical norms.
(Additional reporting by Jonathan Spicer and Richard Leong in New York, and Ann Saphir in San Francisco; Editing by Paul Simao, Tim Ahmann and Chizu Nomiyama)