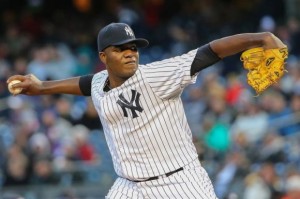 (Reuters) – New York Yankees pitcher Michael Pineda has been suspended 10 games by Major League Baseball on Thursday for having a foreign substance on his body during Wednesday's game against the Boston Red Sox.
Pineda was ejected from the game in the second inning for using pine tar, a sticky substance that allows a pitcher to improve his grip on a ball.
The substance was slathered on the right side of Pineda's neck, which he would touch with his pitching hand to improve his grip during a chilly night in Boston.
Unless appealed, Pineda's suspension is scheduled to begin immediately, and he would be ineligible until April 5 against the Angels in Los Angeles after missing home series against the Angels, Seattle Mariners and Tampa Rays.
If appealed, the discipline issued to him will be held in abeyance until the process is complete.
(Reporting by Larry Fine in New York; Editing by Frank Pingue)