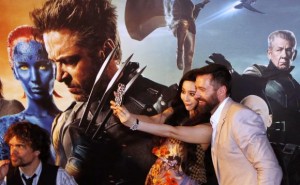 (Reuters) – Mutant superhero movie "X-Men: Days of Future Past" powered to $302 million in worldwide ticket sales through the U.S. Memorial Day holiday on Monday, capping a weekend in which it surpassed "Avatar" as the biggest global debut for film studio 20th Century Fox.
The seventh installment in the "X-Men" franchise topped U.S. and Canadian movie charts with $111.0 million from Friday through Monday, according to estimates from tracking firm Rentrak. The film earned an additional $191.0 million at theaters around the world, Fox said.
The "X-Men" sequel was boosted by strong reviews, including a 91 percent positive rating on the Rotten Tomatoes website, and an "A" grade in audience polling by CinemaScore, Fox executives said. The film drew an ethnically diverse audience that was 56 percent male and 44 percent female, said Spencer Klein, senior vice president and general sales manager for 20th Century Fox, a unit of 21st Century Fox
"The movie broadened out to a general audience," he said.
From Friday through Sunday, "X-Men" racked up global ticket sales that beat the December 2009 debut of Fox's "Avatar," the sci-fi adventure that started with $241.5 million worldwide and became the best-selling movie of all time, grossing $2.8 billion, according to Box Office Mojo.
"X-Men" collected global sales of $261.8 million over its first three days in 119 territories, including $37.7 million in China, the world's second-largest film market. "Avatar" did not open in China during its first weekend of release.
In the latest installment in the Marvel Comics series, Hugh Jackman's sharp-clawed Wolverine travels back in time to try and save the mutants from future destruction. To alter history, he is drawn into battle with the blue, shape-shifting Mystique, portrayed by Jennifer Lawrence in the $200 million production.
The film had to contend with a dose of unwelcome publicity after two men accused director Bryan Singer of sexually abusing them as teenagers, charges he denies.
The stampede of "X-Men" knocked monster hit "Godzilla" to second place at U.S. and Canadian theaters. The remake of the 1954 Japanese film took in $39.4 million domestically from Friday through Monday, and brought its global total to $324.5 million, according to Warner Bros., which produced "Godzilla" with Legendary Pictures.
New romantic comedy "Blended" came in third, falling short of forecasts with $18.2 million in domestic ticket sales through Monday. The movie stars Drew Barrymore and Adam Sandler as single parents on vacation with their kids at an African resort.
Seth Rogen comedy "Neighbors" landed in fourth place with $17.2 million, ahead of superhero sequel "The Amazing Spider-Man 2" in the No. 5 slot with $10.0 million.
Time Warner Inc's Warner Bros. distributed "Godzilla" and "Blended." Comcast Corp's Universal Pictures released "Neighbors." Sony Corp's movie studio distributed "Spider-Man 2."
(Reporting by Lisa Richwine; Editing by Diane Craft)