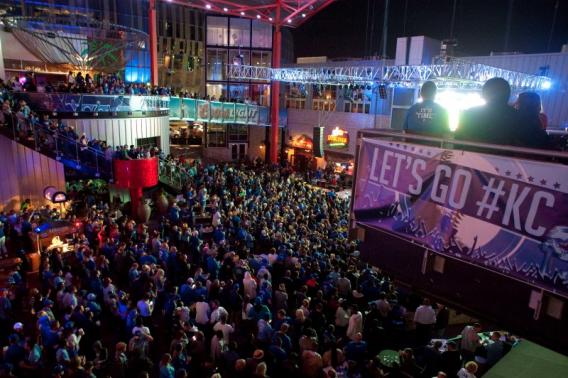 (Reuters) – Buses roll through the downtown streets alternating their destination with the message "Go Royals" — the same rousing chant that took over Pizza Bar near closing time in the Power & Light district.
Nearly three decades of frustration for baseball fans in Kansas City has faded with the Cinderella story of the Royals, who have taken the San Francisco Giants to a deciding Game Seven of the World Series.
A victory parade is sure to be in the offing should the Royals triumph on Wednesday, but win or lose the team has lit a fire in this Midwestern city and inspired a sea of royal blue on the streets and in the stands at Kauffman Stadium.
The Royals have been underdogs from the start against their fellow wild card team from San Francisco, but are now rated slight favorites to beat a Giants team gunning for their third World Series title in five years.
Kansas City is in the postseason for the first time in 29 years, since Hall of Famer George Brett, now a Royals vice president of baseball operations, led the team to the 1985 title in a Game Seven win over intra-state rival St. Louis Cardinals.
That triumph is part of a trend that has further fueled optimism in the Royals as the home team has won the last nine World Series that have gone to a Game Seven.
The streak was started in 1982 when the Cardinals beat the visiting Milwaukee Brewers, with the Baltimore Orioles of 1979 the last road team to win a climactic Game Seven with their victory over the Pirates in Pittsburgh.
Game Seven can leave an everlasting memory, such as provided by Minnesota Twins ace Jack Morris, who hurled all 10 innings of a 1-0 victory over the Atlanta Braves in 1991 to settle the World Series and claim Most Valuable Player honors.
And the unlikely walk-off home run struck by light-hitting second baseman Bill Mazeroski that gave the Pirates an upset triumph over the mighty New York Yankees in 1960 and helped the defensive whiz get into the Hall of Fame.
Heroics in the 2014 Game Seven might also impact MVP honors.
Sensational defensive outfielder Lorenzo Cain and hard-hitting first baseman Eric Hosmer have both put up big numbers for Kansas City, while Hunter Pence could challenge pitcher Madison Bumgarner with a clutch game should the Giants win.
It all ends with Game Seven of the World Series.