By Barbara Goldberg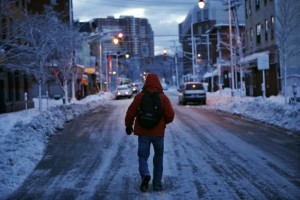 NEW YORK Fri Feb 14, 2014 1:55pm EST
(Reuters) – The U.S. East Coast dug out on Friday from the final wallop of a deadly four-day storm that dumped more than two feet of snow in some places, causing chaos from the South to New England.
Five more people were killed on icy roads or while shoveling snow in North Carolina, bringing the storm's death toll to at least 20. In New York, doctors were working to save the baby of a pregnant 36-year-old woman killed by a private snow plow in a parking lot in Brooklyn.
The Pennsylvania Turnpike was littered with twisted metal from up to 50 vehicles in multiple accidents that injured at least 30 people. The road had to be closed during the morning commute, causing a 7-mile (11-km) backup, said Renee Vid Colborn, a spokeswoman for the Pennsylvania Turnpike Commission.
"It was a chain reaction," Vid Colborn said of two massive crashes involving up to 25 vehicles each. None of the injuries was life threatening, she said.
Blue skies and temperatures in the 40s in the New York City area on Friday belied a previous night of unusual thunder snow and electrical storm in New Jersey. A bolt of lightning struck a Spirit Airlines plane flying from Fort Lauderdale, Florida, but it was able to land safely at its destination, Atlantic City International Airport, said airline spokesman Jim Lynde.
"Thunder snow is just a reflection of how intense that storm was and how hard the snowfall rate was," said Chris Vaccaro, spokesman for the National Weather Service.
Snowfall measured 28.5 inches in Pilot, Virginia, about 200 miles west of Richmond, Vaccaro said.
A new storm system from the central Plains was on its way Friday, expected to dump up to 3 inches on the East Coast into Saturday of the Presidents Day holiday weekend, he said.
SECOND SNOW DAY FOR PHILADELPHIA SCHOOLS
Heavy snow in and around New York City, Boston and Philadelphia, caused some schools to be closed for a second unplanned day on Friday.
"You can fly in the air!" squealed kindergartner Jack Mension, 6, while sledding in Philadelphia's Clark Park on his second canceled school day due to weather.
Some parents were not as thrilled as they scrambled to find child-care and school administrators were looking at how best to make up lost classroom time by extending school into the summer.
About 1,400 U.S. flights were canceled and roughly 2,400 more were delayed by midday on Friday, said flight-tracking website FlightAware.com.
The weather also slowed business for flower shops banking on a big day of deliveries on Friday for Valentine's Day.
Stefan Handl, a co-owner of the Harlem Flo flower shop in Manhattan, said the huge storm "isn't making our life easier, that's for sure."
(This story corrects Pilot, Virginia, as west of Richmond instead of east in 7th paragraph )
(Additional reporting by Daniel Kelley in Philadelphia, Karen Brooks in Austin, Texas; editing by Gunna Dickson)