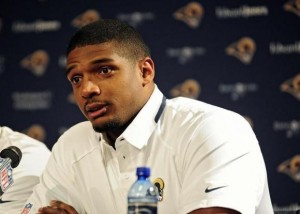 (Reuters) – The network, which is jointly owned by Winfrey and Discovery Communications Inc, said the series will follow Sam as he prepares for a career in professional football and tries to make the Rams roster.
The Rams selected Sam, 24, on Saturday in the seventh round of the NFL Draft three months after the defensive end from the University of Missouri came out publicly.
Sam's story attracted wide attention in the lead-up to the annual draft, and his tearful embrace of his boyfriend when drafted has quickly become an emblematic moment for the sport.
A start date for the series, its title or the number of episodes OWN planned to air were not announced.
(Reporting by Eric Kelsey; Editing by Piya Sinha-Roy and Andre Grenon)