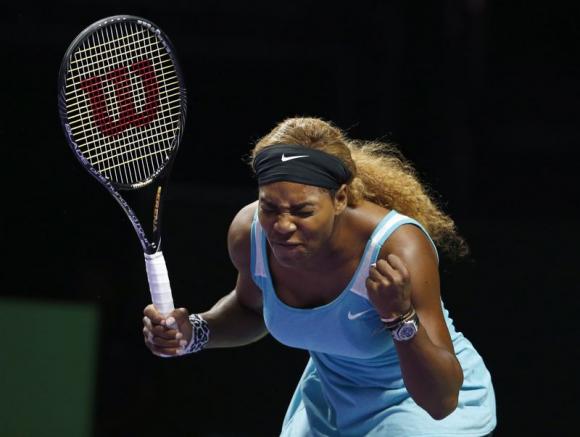 (Reuters) – Serena Williams clinched the year-end world number one ranking for the fourth time without hitting a ball on Friday after Maria Sharapova, the only woman with any chance of overtaking her, was eliminated from the WTA Finals.
Needing to win in straight sets to stand any chance of advancing to the semi-finals, Sharapova lost the second set of her match against Poland's Agnieszka Radwanska at Singapore's Indoor Stadium, ending her slim hopes of leapfrogging Williams for the top spot.
Sharapova had led 7-5 5-1 and appeared to be cruising towards victory but Radwanska dug deep to reel off five straight games and force a tiebreak, which she won 7-4 to even up the match and effectively eliminate the Russian from the tournament.
Sharapova had already lost to Caroline Wozniacki and Petra Kvitova in the White Group and although she went on to beat Radwanska 7-5 6-7(4) 6-2, the win served only as a consolation with her opponent eventually advancing to the last four.
"I got the job done. I know I'm not moving forward, but I'm proud of that effort and to finish the year off on this way," Sharapova told reporters of her victory.
"I will not be chasing the number one ranking next season, I think adding more grand slams is the top priority," the five times major champion added.
Despite receiving the rankings boost, Williams, who previously finished the year ranked number one in the world in 2002, 2009 and 2013, faces an anxious wait before knowing whether she has advanced to the semi-finals.
The reigning U.S. Open champion thrashed Eugenie Bouchard 6-1 6-1 on Thursday to finish the round-robin phase with a 2-1 win-loss record after beating Ana Ivanovic in her opening match and then losing to Simona Halep.
The only way she can miss out on the semis is if Ivanovic beats Halep in straight sets on Friday.
"Well, my fate really rests on me," Williams said after beating Bouchard. "If I wanted to win and be a part of the event, I should have won my match yesterday or should have done better.
"So whatever happens, happens at this time. I did the best that I could do this week. I should have thought about that sooner."