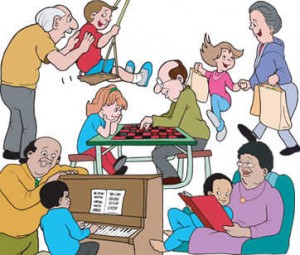 Grandparents' Day has a threefold purpose — this is to honor grandparents; give opportunity for them to show their love for their grandchildren; and lastly, to help children become aware of the strength, information and guidance older people can offer.  It is widely celebrated annually every first Sunday of September and here we'll be telling you the top spots in the metro where to spend the weekend with your folks.
Legaspi Active Park
Located in Legaspi Village, Makati City, this park is branded as an "Active Park" because of the joggers who come all day long, even past 10 in the evening. This is a perfect place to spend the weekend with your  grandpas and grandmas. You can even go for a picnic after a walk with the market just situated in the corner offering great varieties.
Terra 28
With today's technology trending fast in our country, kids might have somehow forgotten games that were enjoyed by the older generations as they grew up. This place is a good treat for grandchildren and their folks so they can play traditional Filipino games like, Patintero, Luksong Baka, Piko, and others.    Terra 28 in Bonifacio Global City in Taguig is open daily from 6am to 10pm.
Salcedo Market
Spending time with the people you love can get better with food and a lovely talk while sitting around a nice dining table. If you have never been to Salcedo Village, Makati, now is the perfect time for you to visit. Opening hours is from 10 am to 9pm, Monday to Saturday. There are great food choices, service and ambiance. It is a good place to sit down, drink coffee and listen to your grandparents' stories.
One doesn't need to go too far to experience little pleasure with loved ones. With or without budget, nothing beats spending time with the people who guided us through our lives. Ease their day with a simple thank you and I love you. We salute every grandparent.  Thank you to our Lolas and Lolos!  We love you!