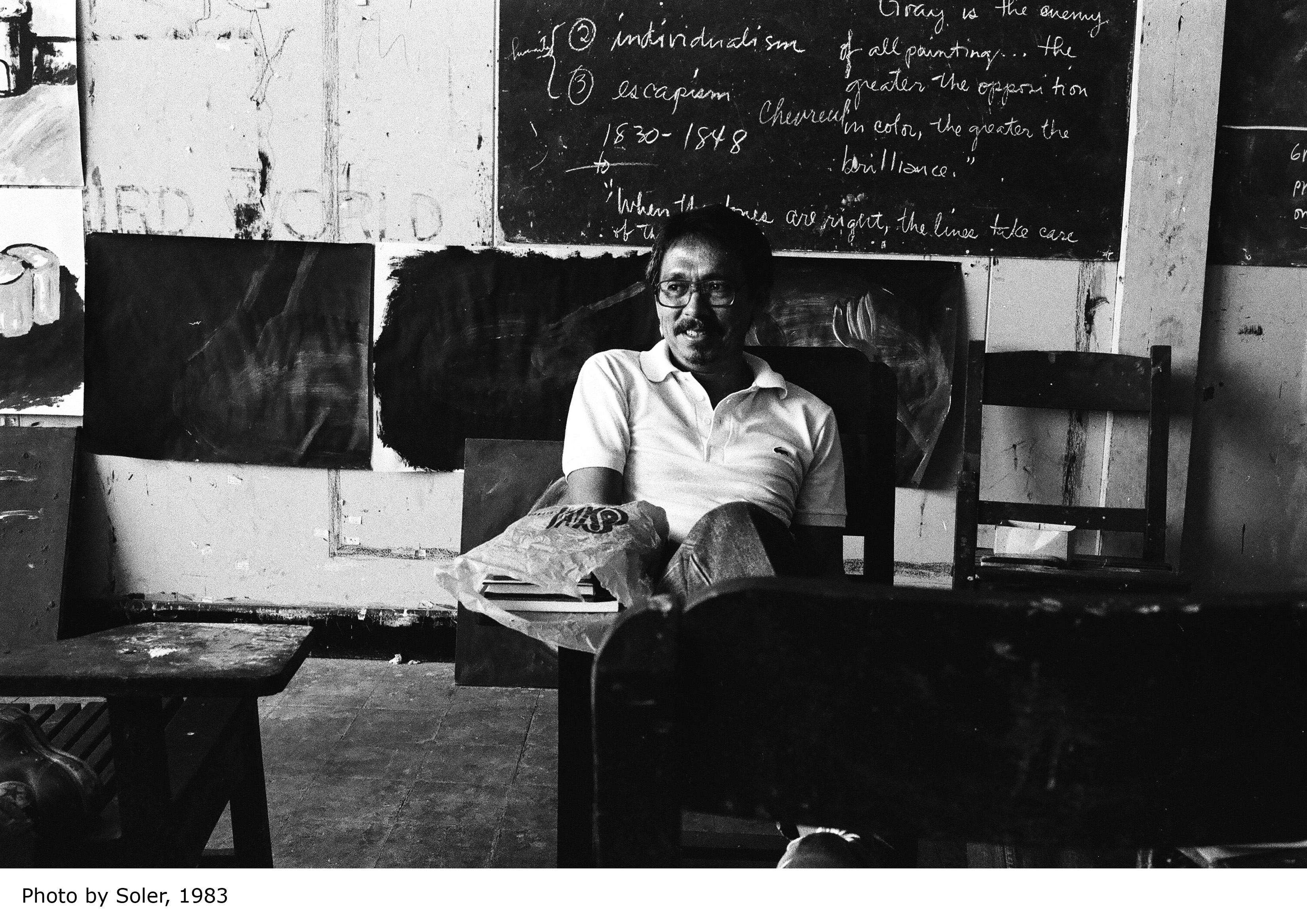 Cultural Center of the Philippines
30 August – 26 October 2014
"What does it all matter, as long as the wounds fit the arrows?" a variation of Franz Kafka's entry in his diary, serves as a cryptic title for a sprawling group exhibition at the Cultural Center of the Philippines in memory of pioneering Filipino artist, teacher, curator, and CCP's founding museum director Roberto Chabet (1937-2013). Hailed as the father of Philippine conceptual art, Chabet is recognized for introducing an alternative view of art in the country in the 60s with his distinct use of everyday common materials that examined the nature of art.
Curated by artists Nilo Ilarde and Ringo Bunoan, "What does it all matter, as long as the wounds fit the arrows?" features a wide range of works by 75 contemporary Filipino artists who were mentored by Chabet mainly at the University of the Philippines College of Fine Arts, where he taught from 1971-2002. The exhibition charts the multiple trajectories that emerged from his classroom. Similar to Chabet's work, it purposefully resists a singular linear methodology or an easy summation; rather it proposes an open constellation of diverse forms, themes, and styles that are ostensibly messy, disordered, and conflicting yet still in alignment with one another. Juxtaposed together to spur dialogues, tangents, and tensions, the works in the exhibition disclose a score of narratives that lend viability and vibrancy to Philippine contemporary art.
Participating artists include Ronald Achacoso, Juan Alcazaren, Poklong Anading, Bert Antonio, Amy Aragon, Agnes Arellano, Alfredo Aquilizan, Felix Bacolor, Yason Banal, Argie Bandoy, Pablo Biglang-awa, Lyle Buencamino, Ringo Bunoan, Annie Cabigting, Jonathan Ching, Mariano Ching, Lena Cobangbang, Ernest Concepcion, Louie Cordero, Aba Dalena, Kiri Dalena, Bembol dela Cruz, Lara de los Reyes, Pardo de Leon, RM de Leon, Ranelle Dial, Francesca Enriquez, Jed Escueta, Patricia Eustaquio, Nona Garcia, Katya Guerrero, Nilo Ilarde, Geraldine Javier, Pete Jimenez, Sam Kiyoumarsi, Robert Langenegger, Ileana Lee, Romeo Lee, Lani Maestro, Pow Martinez, Bong Mata, Lui Medina, Jet Melencio, Katrina Miranda, Paul Mondok, Elaine Navas, Lubin Nepomuceno, Kaloy Olavides, Jonathan Olazo, Jayson Oliveria, Mawen Ong, Bernardo Pacquing, Sandra Palomar, Gary-Ross Pastrana, Yolanda Perez-Johnson, Dan Raralio, Norberto Roldan, Juni Salvador, Popo San Pascual, Mona Santos, Soler Santos, Jojo Serrano, Yasmin Sison, Nolet Soliven, Gerardo Tan, Gemo Tapales, Jay Ticar, Wire Tuazon, Trek Valdizno, Gail Vicente, Cris Villanueva, Alvin Villaruel, MM Yu, Reg Yuson, and Alvin Zafra.