Wed Apr 16, 2014 11:25pm EDT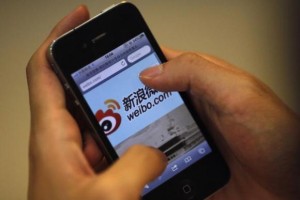 (Reuters) – China's Weibo Corp will be valued at a lower-than-expected $3.46 billion when it goes public on the Nasdaq on Thursday, amidst concerns about the microblogging service's slowing user growth and the country's highly censored media environment.
The Twitter-like microblogging service, owned by web portal Sina Corp, sold 16.8 million American Depositary Shares (ADSs) for $17 apiece, raising $285.6 million, an underwriter told Reuters.
The company had planned to sell 20 million ADSs at between $17 and $19 per share.
Weibo will add to the list of Chinese companies flocking to the U.S. IPO market in their biggest numbers since 2010, drawn by soaring valuations for tech start-ups.
Chinese e-commerce giant Alibaba Group, which invested $586 million for an 18 percent stake in Weibo, is expected to file for a widely anticipated share sale as early as Monday, according to sources.
Alibaba rival JD.com filed for a $1.5 billion U.S. listing in January.
Since its launch in 2009, Weibo has become the country's water cooler, a place where nearly 600 million Internet users opine on everything from Korean soap operas to China's latest political intrigue.
Weibo had 143.8 million monthly active users in March.
The company's revenue almost tripled to $188.3 million in 2013 from a year earlier, while net loss narrowed to $38.1 million from $102.5 million.
Weibo's shares are expected to begin trading under the symbol "WB" on the Nasdaq on Thursday.
Goldman Sachs (Asia) LLC and Credit Suisse were the lead underwriters to the offering.
(Reporting by Aman Shah and Arnab Sen in Bangalore; Editing by Gopakumar Warrier)