By Ryan Vlastelica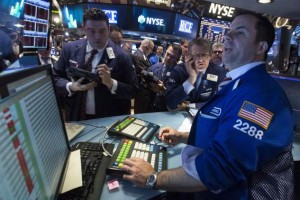 NEW YORK Mon Apr 14, 2014 6:02pm EDT
(Reuters) – U.S. stocks closed higher on Monday as Citigroup's earnings and strong retail sales gave investors reasons to buy equities despite a resurgence of geopolitical uncertainties.
Equities opened higher as strong results from Citigroup and bullish retail sales data lifted sentiment, though shares lost ground in the last hour of trading. Both the Nasdaq and the S&P 500 briefly turned negative, though they subsequently returned to positive territory.
Geopolitical concerns returned to the forefront after pro-Russian separatists ignored an ultimatum to leave occupied government buildings in eastern Ukraine as a threatened military offensive by government forces failed to materialize. Rebels in the town of Slaviansk issued a bold call for Russian President Vladimir Putin to help them.
Citigroup led financial shares higher after the bank reported quarterly earnings that beat expectations, aided by a smaller loss on its troubled assets even as its revenue declined. The stock rose 4.4 percent to $47.67 while the S&P financial index climbed 0.8 percent and the KBW Banks index gained 0.7 percent.
Among other financials, Bank of America Corp shares rose 1.5 percent to $16, while Morgan Stanley shot up 2.1 percent to $29.06.
"We're in a tug of war between the fundamentals of earnings – and so far, some have looked good – and then a broad cloud of geopolitical uncertainty underlying everything, which hasn't been getting the attention it deserves in markets," said Nicholas Colas, chief market strategist at the ConvergEx Group in New York.
Biotech shares remained volatile, ending flat after a session when the Nasdaq biotech index .NBI rose as much as 2.7 percent and fell as much as 1.9 percent. The biotech sector entered bear market territory – defined as a 20 percent drop from its peak – on Friday as investors took profits in the high-flying group and pushed the Nasdaq below 4,000 for the first time in two months.
Intuitive Surgical was the S&P 500's biggest decliner, falling 3.3 percent to close at $425.
The Dow Jones industrial average .DJI shot up 146.49 points, or 0.91 percent, to end at 16,173.24. The Standard & Poor's 500 Index gained 14.92 points, or 0.82 percent, to finish at 1,830.61. The Nasdaq Composite Index advanced 22.96 points, or 0.57 percent, to close at 4,022.69.
Tension between Moscow and the United States increased over the weekend as a Russian fighter aircraft made repeated low-altitude close-range passes near a U.S. ship in the Black Sea.
An index of Russian stocks fell 1.3 percent and the ruble hit its weakest in three weeks against the U.S. dollar as Ukraine's preparedness to fight heightened fears of Russian military intervention and more Western sanctions against Moscow.
Brent crude prices climbed 1.4 percent on concerns about supply disruptions or sanctions against Russia. The S&P energy index .SPNY rose 1.3 percent and was one of the best-performing sectors for the day.
"It's troubling to see concerns expressed through price action in oil, since high oil prices will serve as a tax on consumers," Colas said.
U.S. retail sales recorded their largest increase in 1-1/2 years in March, a bigger gain than had been anticipated and the latest sign that the economy was emerging from its weather-induced slumber.
Medtronic shares fell 1.9 percent to end at $58.08 after a U.S. court ruling temporarily stopped sales of the company's aortic heart valve replacement system in the United States because of a patent infringement. Shares of Edwards Lifesciences, which was on the other side of the ruling, surged 11 percent to end at $81. The stock was the S&P 500's biggest gainer.
Shares of Aspen Insurance Holdings jumped 11.2 percent to $43.77 after Endurance Specialty offered to buy Aspen for $3.2 billion in cash and stock. Endurance shares slid 2.8 percent to $52.32.
About 63 percent of stocks traded on the New York Stock Exchange ended higher, while 51 percent of Nasdaq-listed shares ended in positive territory.
About 5.96 billion shares traded on all U.S. platforms, according to BATS exchange data, below the 6.96 billion traded on average so far this month.
(Editing by Jan Paschal)