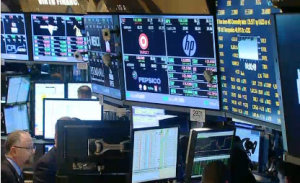 (Reuters) — U.S. stocks rallied on Tuesday (March 4), with the S&P 500 closing at a record as concerns about a confrontation between Russia and Ukraine eased, and the market recovered more than all of the previous session's hefty losses.
President Vladimir Putin delivered a robust defense of Russia's actions in Crimea on Tuesday, saying he would use force in Ukraine only as a last resort. His comments relieved investors' fears that East-West tension over the former Soviet republic could lead to war.
The day's gains followed Wall Street's worst day in a month, when investors sold stocks and other risky assets as tensions escalated between Ukraine and Russia. Global stocks rebounded on Tuesday while gold, the Japanese yen and Treasuries prices fell. Crude oil prices, up more than 2 percent on Monday, reversed some of that session's gain in trading on Tuesday.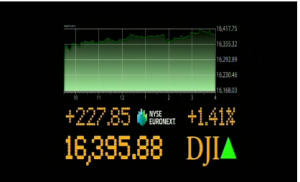 The Dow Jones industrial average jumped 227.85 points or 1.41 percent, to end at 16,395.88. The S&P 500 gained 28.18 points or 1.53 percent, to finish at 1,873.91. The Nasdaq Composite climbed 74.671 points or 1.75 percent, to close at 4,351.972.
The S&P 500 ended at a record high for the second time since Friday, when the broad index finished February with a milestone. In Tuesday's session, industrials and financials ranked among the biggest gainers. The benchmark index is up 1.4 percent for the year.
The Wilshire 5000 Index closed above 20,000 for the first time. The index has gained 193.55 percent or $15.9 trillion from its low on March 9, 2009, after the financial crisis.
Walt Disney Co shares hit a record intraday high after reaching a deal with Dish Network that lets the No. 2 satellite TV provider carry Disney-owned networks such as ABC and ESPN, and deliver the content outside of a traditional TV subscription. Disney shares rose 2.8 percent to close at $81.71 (USD), after hitting an all-time intraday high of $82.17.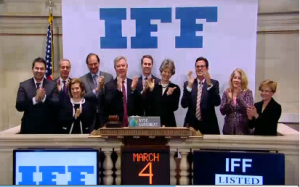 Qualcomm Inc rose 3.4 percent to end at $76.11, off an all-time intraday high of $76.79 reached on Tuesday. The world's biggest cellphone chip maker raised its stock-buyback authorization by $5 billion to $7.8 billion, and increased its cash dividend by 20 percent.