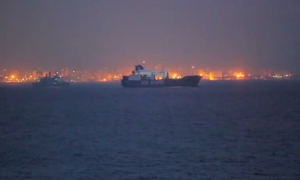 (Reuters) — Norwegian Armed forces have for the first time released video of the Danish-Norwegian joint Task Group transporting chemical weapons out of Syria.
The video shot during the first operation on January 7, 2014 show Norwegian personnel on the Frigate HNK Helge Ingstad preparing for the operation and keeping a lookout while Danish naval vessel "Esbern Snare" escort cargo vessel "Ark Futura" in and out of Latakia Harbour in Syria.
VHF correspondence during the operation hear the joint Task Force talk about three containers in Latakia.
"This is Esbern we are entering Latakia due to confirmation from joint mission about presence of three containers at the moment in Latakia."
The removal of chemical weapons from Syria is a joint mission between the United Nations, the Organisation for the Prohibition of Chemical Weapons and a Danish-Norwegian-British Task Force.
On Wednesday (February 26) the task force removed a fourth consignment, containing mustard gas, the Organisation for the Prohibition of Chemical Weapons (OPCW) said.
So far only a handful of cargoes have been shipped out of the country, a small fraction of the stockpile declared to the OPCW.
Syria has agreed a new timetable to remove its chemical weapons by late April after failing to meet a deadline to ship out the arsenal earlier this month, diplomats said on Wednesday.
Under a U.S.-Russian deal reached after a chemical weapons attack killed hundreds of people around Damascus last year, President Bashar al-Assad's government should have handed over 1,300 tonnes of toxic chemicals by Feb. 5 for destruction abroad.
Amid growing international frustration at the slow pace of progress, Syria last week submitted a new 100-day plan to remove the remaining chemicals, which would have set a target of late May or early June for completion.
But the OPCW said the work could be done quicker, despite fighting between Assad's forces and rebels seeking his overthrow.
Diplomats said the latest timetable would see Syria committing to transport most of the remaining chemicals to its Mediterranean port of Latakia by April 13, from where they would be shipped out for destruction.
Consignments from two sites where security was precarious would be delivered to Latakia by April 27, they said.
The diplomats also said a further shipment was expected to leave Latakia port on international vessels by the weekend.
Assad agreed to destroy his chemical weapons following global outrage over a sarin gas attack in August last year.
The world's deadliest chemical attack in 25 years, it drew a U.S. threat of military strikes which was dropped after Assad – who blamed rebels for the attack – pledged to give up chemical arms.
The latest timetable appears to be a compromise between Damascus and Western powers who said last week that the shipment of the chemicals could be completed by the end of March.
The United States has sent the MV Cape Ray, a ship outfitted with special equipment to neutralise the worst of Syria's chemicals at sea, and says it will need 90 days to complete the destruction.