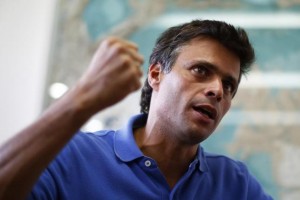 (Reuters) — Venezuela's best-known jailed opposition figure, Leopoldo Lopez, was jailed for 13 years on Thursday (September 10) on charges of inciting 2014 anti-government protests that spiralled into violence killing more than 40 people.
After a marathon session at the heavily guarded Palace of Justice, judge Susana Barreiros ruled 44-year-old Lopez, a U.S.-educated hardline opponent of socialist President Nicolas Maduro arrested in February last year, had masterminded the violence.
He was ordered to return to the Ramo Verde military jail to serve a sentence of 13 years and nine months, his lawyer and supporters said.
Outraged supporters of Lopez cried and some took to social media to vent their anger, hailing Lopez as a Venezuelan "Nelson Mandela."
Lopez's case has become a cause celebre for opposition supporters over what they deem the Maduro government's trampling of human rights. The U.S. government, the United Nations and international rights groups had all called for Lopez's release.
"Thirteen years is a long time but 87 days go by quickly. In 87 days, we can have a National Assembly that approves the Law of Amnesty and Reconciliation that puts Leopoldo Lopez out on the street by the sovereign decision of the Venezuelan people," said Jesus Torrealba, leader of the opposition coalition which includes Lopez's Popular Will party.
Lopez has for years been one of the most prominent hardline figures in Venezuela's opposition. He was a successful and popular mayor of the Chacao district of Caracas until 2008.
Earlier in the day, Lopez supporters and government backers clashed outside the trial, with one opposition activist dying of a heart attack, according to Popular Will.
U.S.-based TV network Telemundo said freelance correspondent Daniel Garrido was attacked and was awaiting medical care in Caracas. His equipment was also stolen, the broadcaster said in a statement condemning the incident.
Relatives of government supporters who died in the 2014 violence held a vigil outside the court on Thursday.