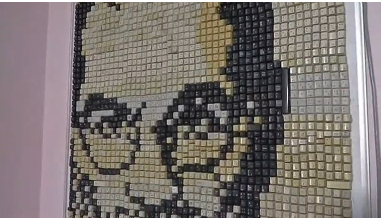 MARIUPOL, Ukraine (Reuters) — Ukrainian IT students paid tribute to their idol, U.S. businessman and Apple co-founder Steve Jobs, in an unusual way – by creating his portrait from keyboard keys.
Three students from a private IT academy in the eastern city of Mariupol spent three months searching for the best possible keys, which could resemble Jobs' face.
Student Ivan Kuchugura said it was very time-consuming process.
"When I started, I took around three hours to glue two lines of keys. I burnt my fingers as it was hot glue, or something else happened. I had to take breaks for the rest because I had pain in my back. So, it was very difficult."
Students also included the words 'Apple', 'Steve Jobs' and 'iPhone' into the artwork.
The picture is currently hanging on a wall at the academy, but will soon be moving to a new home in California.
Apple saw the image on Facebook and the acamedy have decided to donate it to the corporation.