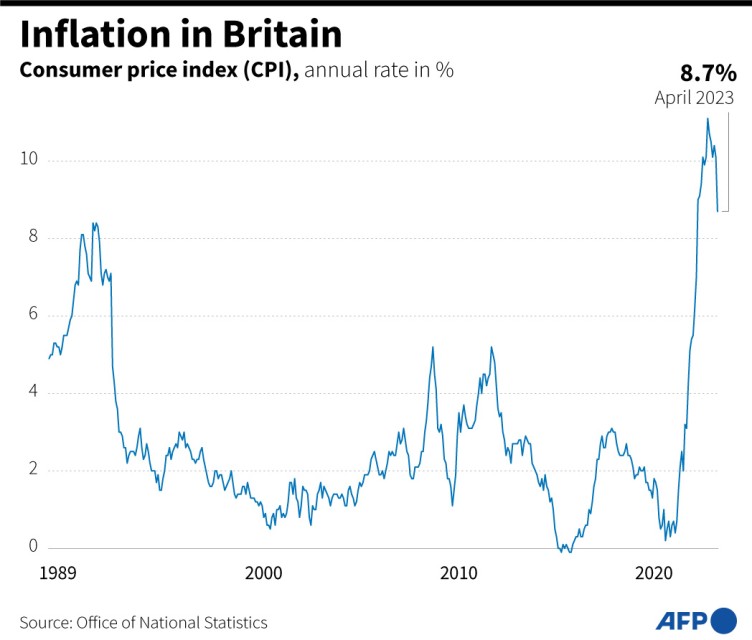 LONDON, May 24, 2023 (AFP) – Britain's annual inflation rate struck a 13-month low in April, official data showed Wednesday, but remains elevated at 8.7 percent as soaring food prices offset weaker energy costs, prolonging a cost-of-living crisis.
The rate of price increases slowed from 10.1 percent in March to below double digits for the first time since August last year, the Office for National Statistics said in a statement.
At 8.7 percent, UK inflation is at the lowest level since March last year when the rate stood at 7.0 percent, the ONS added.
"However, prices in general remain substantially higher than they were this time last year, with annual food price inflation near historic highs," noted ONS chief economist Grant Fitzner.
While energy prices have slumped on easing supply concerns thanks to warmer weather in Europe and as nations become less dependent on Russian oil and gas, food costs continue to soar.
UK food price inflation stood at 19 percent in April, around the highest level in more than 45 years.
"Droughts and floods in Europe and elsewhere have been disrupting supply chains and pushing up prices of food stuffs," said Tom Lancaster, analyst at the Energy and Climate Intelligence Unit.
The price of natural gas, which is used to make fertiliser, remains high compared to before the Covid pandemic.
"Fertilisers applied to crops now will be adding to costs for food harvested later in the year," Lancaster added.
Central banks are battling elevated inflation by hiking interest rates.
Economists on Wednesday said the Bank of England was likely to raise borrowing costs again at its next meeting as the latest inflation figure was above the BoE's 8.4-percent prediction.
– Economy boost –
Britain's annual inflation rate is the highest among countries in the Group of Seven rich economies featuring also Canada, France, Germany, Italy, Japan and the United States.
The BoE's target inflation rate of 2.0 percent remains very far off, while the UK government has said it sees the level dropping to about 5.0 percent by year-end.
Wednesday's data showed "a welcome fall below double figures", BoE governor Andrew Bailey told an online event hosted by the Wall Street Journal.
BoE policymakers "expected that fall because we saw an annual base effect from energy prices falling out" after they had spiked last year following Russia's invasion of Ukraine, he noted.
The data comes one day after the International Monetary Fund delivered a major U-turn on its forecast for the UK economy, saying it expected growth this year just one month after predicting a contraction.
Britain's economy is expected to expand 0.4 percent in 2023, the IMF said in its latest outlook document, which cited weaker energy prices.
The IMF ripped up its previous forecast in April for a 0.3-percent contraction.
"The IMF said yesterday we've acted decisively to tackle inflation but although it is positive that it is now in single digits, food prices are still rising too fast," finance minister Jeremy Hunt said following Wednesday's data and after meeting food producers this week over the issue.
– Pay strikes and rate hikes –
Capital Economics chief UK economist Paul Dales said that "with inflation proving stickier than" BoE expectations, "it now seems all-but certain" the central bank will raise interest rates again in June, to 4.75 percent.
The BoE earlier this month lifted its key interest rate to the highest level since the 2008 financial crisis, noting inflation remained stubbornly high.
It hiked the rate by a quarter-point to 4.5 percent — its 12th increase in a row — fuelling the cost-of-living crisis across Britain.
UK Prime Minister Rishi Sunak's Conservative government recently suffered a drubbing in local elections, as voters gave their verdict over rampant living costs despite state efforts to partly subsidise energy bills.
Over the past year, the nation has been plagued by strikes, staged mainly by railway and postal staff but also by teachers and health workers, as high inflation erodes the value of wages.