By Louis Charbonneau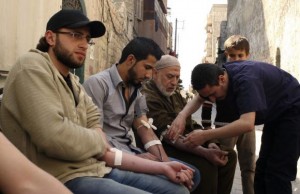 UNITED NATIONS Tue Mar 25, 2014 6:48pm EDT
(Reuters) – A U.N. report on how Syria's neediest civilians are often not accessible to humanitarian relief workers makes it clear that the government of President Bashar al-Assad shoulders most of the blame, a U.S. official said on Tuesday.
A month after the 15-member U.N. Security Council achieved rare consensus to approve a resolution demanding rapid, safe and unhindered aid access in Syria, including across borders, U.N. chief Ban Ki-moon said in a new report that the situation "remains extremely challenging.
His report, which was delivered to council members on Sunday but has not been officially released, criticized both the government and rebels for hindering access to civilians caught in the crossfire of the three-year civil war.
But in Washington's view, Ban's report was especially damning for the government.
"What the report shows is that the magnitude and frequency of violence committed by the Assad regime far outstrips that of the armed groups in Syria," a U.S. official told Reuters on condition of anonymity.
"The Syrian government's massive and indiscriminate use of violence is the single most important factor driving the humanitarian crisis," the official said. "The report is very clear on this and in pointing to the government's failure to implement the resolution's provisions."
Syria's U.N. ambassador, Bashar Ja'afari, did not respond immediately to a request for comment.
Ban's first report to the council on the implementation of the February 22 resolution said 175,000 people remain besieged by government forces and 45,000 people trapped by opposition groups. No new ceasefires were brokered to gain access to these areas and there were breaches of existing ceasefires.
Some 9.3 million people in Syria need humanitarian assistance, Ban said, while another 2.6 million have fled the three-year civil war, sparked in March 2011 by a revolt against Assad.
The Security Council is due to discuss Ban's report on Friday. Several council diplomats told Reuters that it was highly unlikely that Russia would agree to declare Assad's government in non-compliance with the February 22 resolution, a move that could trigger new calls for sanctions.
'DEPLORABLE BEHAVIOR'
Russia, supported by China, has shielded its ally Syria on the Security Council during the conflict. The two had previously vetoed three resolutions that would have condemned Syria's government and threatened it with possible sanctions.
The U.S. official rejected the idea that moderate opposition groups should be equated with extremist groups fighting to topple Assad, including al Qaeda splinter groups such as the Islamic State of Iraq and the Levant, also known as ISIS, and the al-Nusra Front.
"Differentiating between groups like al-Nusra and ISIS, which have blocked humanitarian access and committed atrocities against civilians, and moderate civil and armed opposition groups that have facilitated humanitarian access is very important," the official said.
The U.S. official added that Syrian government forces continue to drop barrel bombs, fire artillery and launch airstrikes against civilian targets.
"We have seen that moderate opposition groups, frequently working with relief organizations and local councils, have been instrumental in facilitating the delivery of aid to desperate civilians, including in Aleppo and Idlib," the official said.
"It is the Assad regime that has repeatedly used bureaucratic obstacles, like visa applications and border controls, to block passage of humanitarian assistance," he said. "This is deplorable behavior on the part of a member state."
U.N. aid chief Valerie Amos has repeatedly expressed frustration that violence and red tape have slowed aid deliveries across Syria to a trickle.
(Reporting By Louis Charbonneau; Editing by Ken Wills)