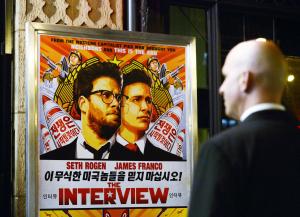 U.S. officials have determined that North Korea was indeed behind the cyber attack on Sony Pictures, according to CNN.
The movie studio said on Wednesday (December 17) that it had decided to cancel the December 25 theatrical release of its North Korea comedy "The Interview." The decision came after several major U.S. theater chains pulled out of showing the film following threats from hackers.
"I think that when the threat moved from the virtual world to the physical world, that's when the dominoes started to fall," explained Rebecca Sun, a senior reporter with The Hollywood Reporter.
Sony has said it is "deeply saddened at this brazen effort to suppress the distribution of a movie, and in the process do damage to our company."
Sony also said that it stood by the film makers of "The Interview," a comedy about two journalists recruited by the CIA to assassinate North Korean leaderKim Jong Un.
Hackers who claimed responsibility for seizing control and leaking data fromSony's computers last month, on Tuesday (December 16) warned people to stay away from cinemas showing the "The Interview," and reminded moviegoers of the Sept. 11, 2001 hijacked plane attacks on the United States.
Reuters