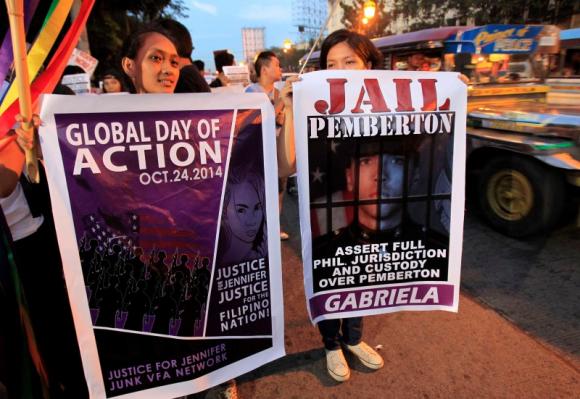 A United States Marine accused of killing a transgender Filipino appeared in a Philippine court for the first time on Friday, as his lawyers sought the suspension of the trial, in a case that could test the strength of security ties between the two allies.
The Marine, Joseph Scott Pemberton, who is being held at a U.S. facility at the main Philippine army base, was charged with the murder of Jeffrey Laude, who was found dead on Oct. 11 in a hotel in Olongapo City, northwest of Manila.
A handcuffed Pemberton appeared in court wearing a black suit and striped tie. He sat quietly, flanked by U.S. security officers, as his lawyers asked the court to suspend proceedings, in a standard trial tactic.
Laude's sister, Marilou, had mixed emotions on seeing Pemberton for the first time. "I wanted to ask him why he killed my brother," she told Reuters. "I wanted to bang his head against the wall. I wanted to be angry, but I am also afraid."
The lawyers argued that the justice department should first decide on their appeal to reverse the decision to indict Pemberton. Authorities will need time to resolve the issue, but the court will decide on the defense bid at a hearing on Monday.
"There was an appeal to reverse the prosecutors' resolution to charge Pemberton with murder for the death of Jeffrey Laude," Virgie Suarez, a lawyer for the victim's family, told reporters, who were barred from the court.
"There was no arraignment today, but the court now has jurisdiction over Pemberton. We are not aware of his appeal. We will oppose it. He should be detained in a local facility."
The U.S. embassy this week rejected a foreign ministry request to hand Pemberton to Philippine authorities, citing the Visiting Forces Agreement (VFA).
Legal rules on the treatment of erring servicemen are laid out in the 1998 pact signed by Manila and Washington to allow U.S. forces to hold military drills in the Philippines to test the readiness of the allies.
A small group of anti-U.S. activists gathered outside the court to demand justice for Laude. Dozens of news cameramen and photographers also waited for Pemberton, who was brought to court in a convoy of heavily-tinted SUVs.
Reuters