By Gerry Shih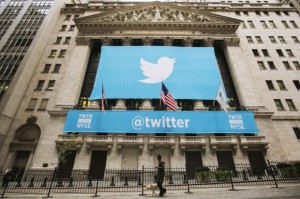 SAN FRANCISCO Wed Feb 5, 2014 5:23pm EST
(Reuters) – Twitter Inc reported its slowest pace of user growth during the fourth quarter, dimming hopes that the social media phenomenon can sustain its torrid pace of expansion and wiping out more than 10 percent of its value on Wednesday.
The San Francisco company posted better-than-expected quarterly revenue of $243 million in its first results as a public company. But investors focused on the anemic user growth, as well as a severe decline in timeline views, a measure of user engagement.
Twitter, which held a highly-anticipated initial public offering in November at $26 a share, has divided investor opinion in the months since, as shares raced to more than $66 ahead of Wednesday's results, despite an absence of news.
Twitter's valuation was predicated in part on the belief it could expand its appeal and eventually grow to a scale close to Facebook's, which has five times as many users. Some analysts warned that its valuation looked increasingly bloated.
User growth, a closely watched metric, in fact sputtered. Twitter averaged 241 million monthly users in the December quarter, up just 3.8 percent from the previous three months – the lowest rate of quarter-on-quarter since Twitter began disclosing user figures.
"What this report will do is it will question how mainstream is Twitter as a platform," said Arvind Bhatia, an analyst at Sterne, Agee & Leach. "Both in the U.S. and internationally, the monthly active user base did not grow as fast as people thought, and that has an impact on the number of timeline views."
Shares fell sharply after hours on Wednesday to $58.50, down about 11 percent from a close of $65.97 on the New York Stock Exchange.
At about 30 times projected 2014 sales, Twitter was more than twice as expensive as Facebook or LinkedIn, based on its Wednesday closing price.
BLOATED VALUATION
Twitter's user numbers grew at 10 percent, 7 percent, and 6 percent during the first three quarters of the year, respectively.
Timeline views dropped sharply from 159 billion to 148 billion in the quarter, signaling that users were refreshing their Twitter accounts less often.
But the efficacy of its advertising business model – which places ads inside users' timelines every time they refresh – appeared to steadily improve. The company said it made $1.49 per one thousand timeline views, a significant jump of 76 percent from a year prior.
Twitter, which lets users send 140-character messages through its mobile app or online, had a net loss of $511.5 million in the fourth quarter, widening significantly from a year earlier as it shelled out on its sales force, research and marketing.
On a non-GAAP basis that excluded items, it made a profit of 2 cents per share, versus roughly break-even a year ago, beating expectations for a slight loss.
Twitter said it was targeting revenue of $230 million to $240 million in the first quarter.
(Reporting by Gerry Shih; Editing by Nick Zieminski)