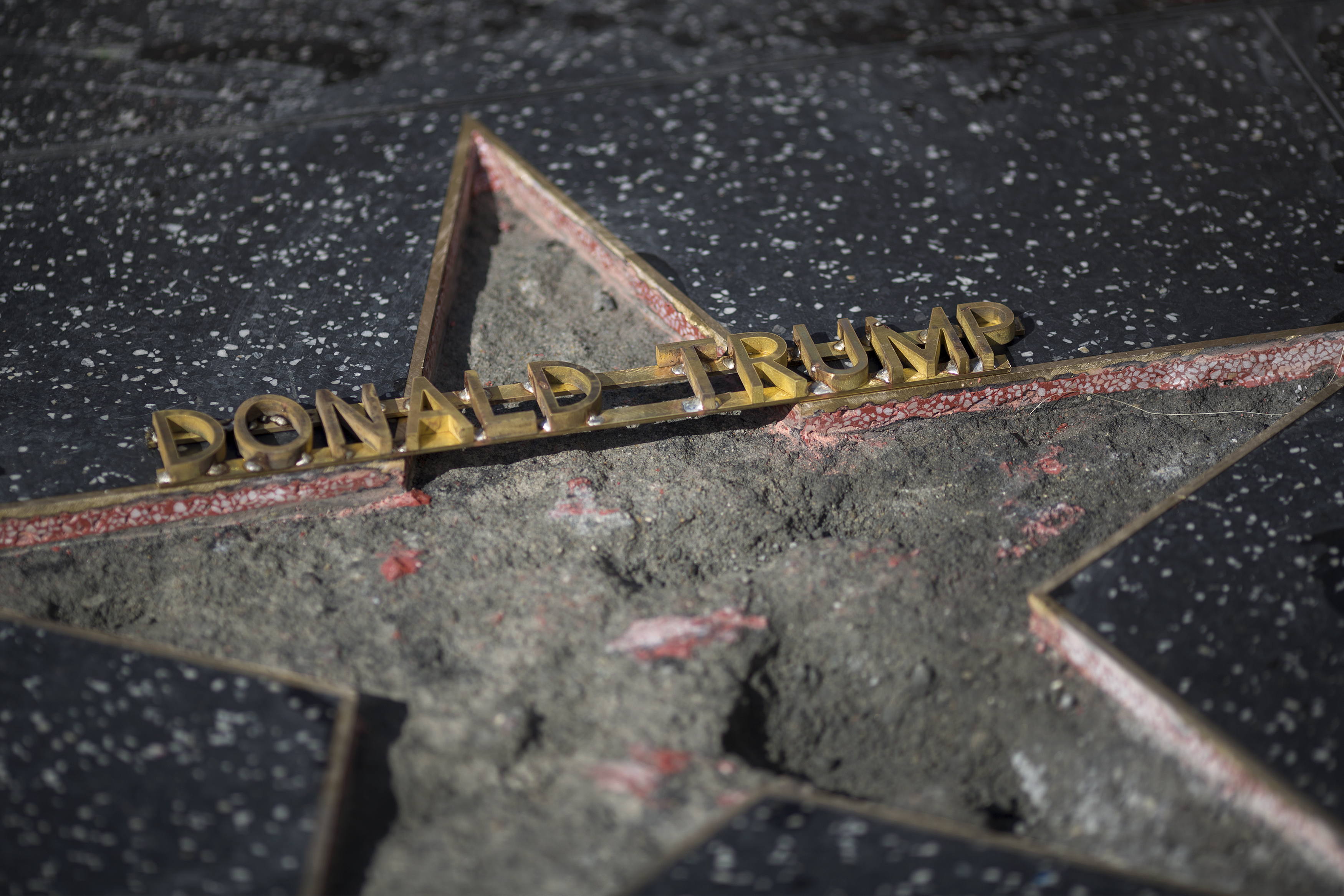 LOS ANGELES, United States (AFP) — A man with an axe destroyed Donald Trump's star on the Hollywood Walk of Fame on Wednesday in a video protest over sexual misconduct allegations dogging the Republican presidential candidate.
The protester, dressed in city construction worker overalls, can be seen on footage posted to YouTube and several other websites hacking away the gold lettering and camera logo from the tribute.
Giving his name as James Otis, he calmly explains he is "terribly upset" with 70-year-old Trump, who vigorously denies claims by almost a dozen women that he groped or was sexually aggressive toward them.
"Four of my family members were sexually assaulted," he says in the video, an amateur clip which appeared to show at least one professional crew filming the incident.
The man told a local news agency he had originally intended to remove the entire star from the sidewalk on Hollywood Boulevard.
He said he was going to auction it and donate the proceeds to Trump's alleged victims — every single one of whom the real estate tycoon has vowed to sue after the November 8 election — but was unable to lift the slab.
"It was very difficult. The stone was like marble — hard to get through," he said about an hour after the 5:45 am attack on the star, awarded in 2007 for Trump's work on "The Apprentice."
He added that he planned to surrender to police, either Wednesday or Thursday, but was still working out arrangements with his attorney.
'Not frightened of Trump'
"I'm not frightened of jail and I'm certainly not frightened of Mr Trump," he said, claiming to have been arrested around two dozen times for protesting various causes.
There was no immediate response from Trump, but the Hollywood Chamber of Commerce, which awards the honors, said the star would be repaired in the coming days and would remain covered in the meantime.
"When people are unhappy with one of our honorees, we would hope that they would project their anger in more positive ways than to vandalize a California state landmark," chamber head Leron Gubler said.
This is not the first time Trump's Walk of Fame star has been targeted.
In July, a Los Angeles street artist built a tiny wall of wooden planks topped with barbed wire around it, in protest at Trump's campaign vow to build a wall on the Mexican border.
Last year, excrement was left on the star and someone drew a large yellow X over it.
A swastika and a mute symbol were also drawn on the red tile earlier this year.
Liliana Preciado, a spokeswoman for the Los Angeles Police Department, told AFP the vandal had used both a pickaxe and sledgehammer on the star.
"We have surveillance video as well as video that has been uploaded to the internet that our detectives are taking a look at and they are confident they will be able to identify the suspect," she added.
Walk of Fame stars are worth around $30,000, meaning anyone found to have destroyed one may find themself facing a felony charge.
© 1994-2016 Agence France-Presse