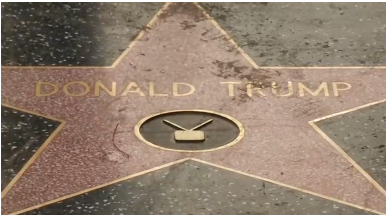 CALIFORNIA, United States (Reuters) –President-elect Donald Trump's star is back on the Hollywood Walk of Fame, less than a month after being defaced by a vandal wielding a sledgehammer and a pick-axe.
Workers spent the past couple of weeks getting it ready with Trump's star making its return this week.
Trump's star "sequel" along Hollywood Blvd. seemed to generating a fair amount of interest among tourists on Wednesday (November 23), with many taking the time to pose and take photos.
The Los Angeles Police Department spokesman dismissed an earlier online media report that stated the additional officers would be assigned to protect the star, adding that it regularly patrols the area.
The Hollywood Chamber of Commerce, who produce and award the stars, also said there was to be no added security. A spokesperson said "The police have a regular presence at the Hollywood & Highland location due to heavy tourist traffic. No special requests have been made in regards to security."
Police arrested James Otis, 52, who admitted destroying Trump's star in October. He's pleaded not guilty to a felony vandalism charge.
Trump received his Walk of Fame star in 2007.