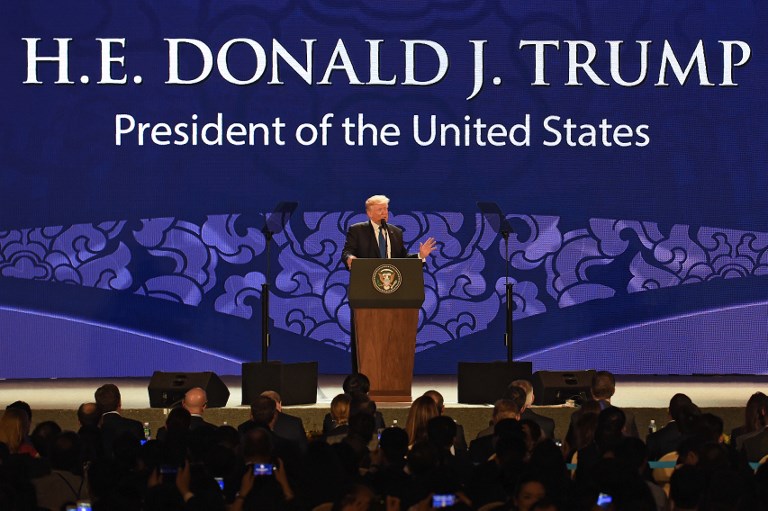 (Eagle News) – United States President Donald Trump criticized "unfair trade" practices of some countries which have hurt the US, saying that under his leadership, America would no longer tolerate unfair trade deals and theft of intellectual property that would put the US economy in jeopardy.
In his speech before the Asia Pacific Economic Cooperation (APEC) meeting in Da Nang Vietnam, Trump repeated his policy of putting America first, in the same way that he expects other countries to put their own interests ahead of foreign countries.
"We are not going to let the United States be taken advantage of any more. I am always going to put America first the same way I expect all of you in this room to put your countries first," he said which was followed by applause from the audience.
-Frank talk with China's Xi-
Trump, who came from a successful state visit in China, said that he had spoken frankly with China's President Xi Jinping on the country's "unfair trade practices" that had hurt the US economy.
"I recently had an excellent trip to China where I spoke openly and directly with President Xi about China's unfair trade practices, and the enormous trade deficit they have reduced with the United States," he said.
The US President said in his talk to China, he expressed his "strong desire to work with China to achieve a trading relationship that is conducted on a fair and equal basis."
He said "unfair trade undermines us all."
"The current trade imbalance is not acceptable," he said.
He said he was not blaming China or any other country "for taking advantage of the United States."
"If their representatives are able to get away with this, they were just doing their jobs," Trump said.
But he called to task the previous US administrations for letting this happen.
"I wish previous administrations in my country saw what was happening and did something about it," Trump said.
"From this day forward, we will compete on a fair and equal basis," he said.
Trump called on countries to abide by "fair and reciprocal trade" and announced that the US will deal with other countries "on the basis of mutual respect and sovereignty."
He said that the United States does not seek to dominate anyone nor does it want any surrender of sovereignty.
What the US wants, he said, are "partnerships of real and lasting value."
-Fair and equal market access-
Trump called for "fair and equal market access" and hit countries that engaged in product dumping, subsidized goods, currency manipulation, and predatory industrial policies."
"They ignored the rules to gain advantage over those who follow the rules, causing enormous distortions in commerce and threatening the foundations of international trade itself," said Trump.
"Such practices along with our collective failure to respond to them hurt many people in our country, and also in other countries," he stressed.
Jobs, factories, and industries were stripped out of the United States and out of many countries in addition," he said.
Trump said he was there in APEC to speak frankly about this.
"We will deal on the basis of mutual respect and mutual benefit. We will respect your independence and sovereignty," he announced to the APEC economies, which include developing economies.
Trump said that all countries should be "strong, prosperous and self-reliant."
The US President also said that it was a fact that not all play by the rules.
Trump said that, "We must ensure that all play by the rules which they do not right now."
"Those who do will be our closest economic partners," he added.
Trump said that the US will no longer tolerate "audacious theft of intellectual property."
"We seek strong partners, not weak partners," he said. "We seek strong neighbors, not weak neighbors."
Duterte: America was first victim of globalization
A day before Trump spoke, Philippine president Rodrigo Duterte noted how that globalization had even affected the United States in a negative way.
"America was the first victim of globalization and that is why Trump is trying to lure them back and said 'America First.' And if you take a look at it, actually, this is what happened," Duterte said.
"When Deng Xiaoping opened the floodgates, opened the door of China to foreign investments, a lot of American companies, to which President Trump is now talking about, left America for a cheaper and a more viable business, lower taxes," he noted.
Vietnam is the fourth leg of US President Trump's 12-day Asia trip. After APEC, Trump will head to the Philippines for the 31st ASEAN Summit and the East Asia Summit.