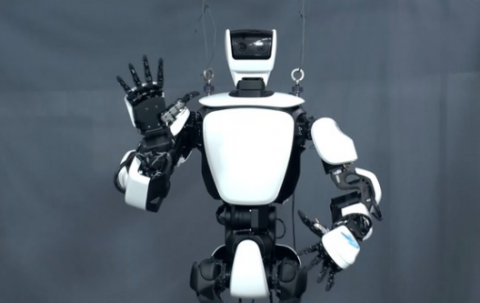 TOKYO, Japan (Reuters) — Japanese car maker Toyota unveiled a new humanoid robot that mirrors the movements of its remote operator in Tokyo on Wednesday (November 29).
The company says T-HR3 is designed to explore how a robot can help the elderly in a country whose population is ageing faster than the rest of the world as the birthrate decreases.
"Humanoid robots are very popular among Japanese people. That's why we continued to work on humanoid robots such as these since the 2005 World Exhibition in Aichi prefecture. We've used the technology we've accumulated over the years in fields such as rehabilitation along with creating other robots, but creating one like this (T-HR3) has always been our dream and that's why we continued to pursue it," said Akifumi Tamaoki, the General Manager of Toyota's Partner Robot Division.
T-HR3 is Toyota's third generation humanoid robot and is operated by a user sitting in an exoskeleton, who can see what the robot sees through a head-mounted display and control more than 30 different joints.
The company says the technology advances their research into safe robotics by measuring the force exerted by and on T-HR3 as it interacts with its environment while giving realtime 'force feedback' to the controller.
"We're primarily focused on making this robot a very family-oriented one, so that it can help people including services such as carer," said Tamaoki.
Toyota say T-HR3 could help in a variety of settings, including the home, medical facilities, construction sites, disaster-stricken areas and even outer space.
Earlier this year Toyota launched a commercial rehabilitation robot rental service which helps patients to learn how to walk again after suffering strokes and other conditions.