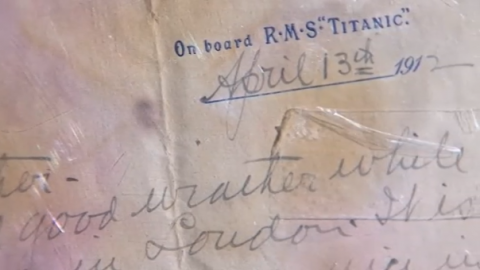 WILTSHIRE, United Kingdom (Reuters) — A personal letter found on the body of a man killed in the sinking of the Titanic sold at auction on Saturday (October 21) for 126,000 pounds ($166,000), a record price for correspondence from the doomed liner.
The letter is one of the last known to have survived the sinking and still carries stains from its time in the Atlantic.
Written by first-class passenger Alexander Oskar Holverson on embossed Titanic "on-board" stationary, the letter to his mother describes his impressions of the palatial ship, praising the food and music.
The letter which eventually reached its destination after Holverson's body had been recovered, was sold by the Holverson family at an auction held by Henry Aldridge & Son in the southern English town of Devizes. Iron keys from the Titanic also sold for 76,000 pounds.
The Titanic was the largest ocean liner in service when it struck an iceberg on April 14, 1912, in the Atlantic while travelling from Southampton to New York.