Wed Apr 16, 2014 8:14pm EDT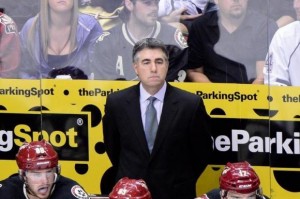 (Reuters) – Dave Tippett, coach of the National Hockey League's Phoenix Coyotes, will coach Canada's men's ice hockey team at next month's world championship, Hockey Canada said on Wednesday.
Tippett, who represented Canada at two Olympics as a player, serving as captain in 1984 and winning a silver medal 1992, will be assisted by fellow NHL head coaches Paul Maurice (Winnipeg Jets) and Peter DeBoer (New Jersey Devils).
"As a coaching staff, we are looking forward to the challenge of representing Canada at the world championship," Tippett said in a statement.
"Hockey Canada has had a great season this year, so we look forward to capitalizing on that momentum in Belarus."
Canada will try for the golden double after taking the gold medal at the Sochi Olympics with a win over Sweden.
The Canadian squad will be made up of players from teams that did not make the NHL's Stanley Cup playoffs and from ones that get knocked out in the early rounds.
The May 9-25 world championship is in Minsk, Belarus.
(Reporting by Steve Keating in Toronto; Editing by Frank Pingue)