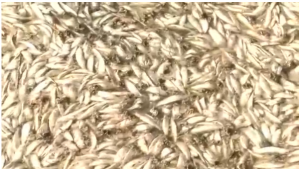 QUEULE, Chile (Reuters) – Thousands of dead sardines were found floating on Monday (April 11) along the shores of Queule River in the southern Chilean region of Araucania. Experts are still investigating the cause of the death.
Television news footage showed masses of the lifeless silver fish more than a foot deep choking the waters in and around the river shores and boats.
At the weekend, Chilean health authorities began removing tons of sardines, scooping them up in baskets and loading them on to boats and a crane fork.
The National Fisheries and Aquaculture at the weekend confirmed on its Twitter account the start of the operation.
Fisherwoman and Queule neighbourhood leader, Victoria Benavente, said the situation was critical.
"The situation is critical. I think that today, is the fifth day and the government should've declared a disaster area. The health part is tremendous, children should not have classes, headaches are immense," Benavente said.
Local media reported there was an imminent health risk at Queule cove, which surprised fishermen and the coastal community.
The leader of Queule Cove fishermen, Hernan Machuca, said more local government workers were needed to remove the dead fish.
"Experience tells us that if we have already collected a thousand tons, at least here in the river (Queule) there are 10 thousand more. And that entails a lot of hours working. It means it can't be possible they hired 50 people to solve this problem. It can't be there are four to five boats. The government here has to declare the inlet of Queule and its surroundings a health catastrophe zone," Machuca said.
Local media also reported that authorities were removing the sardines to a dumping site and banned the consumption of the fish, in case it poses a human threat.