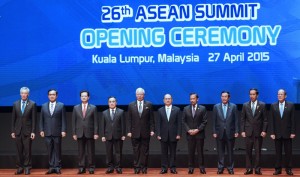 By Seungjoo Lee, Chung-Ang University
(Courtesy East Asia Forum) — Economic integration has steadily increased in East Asia. But the region still suffers from what South Korean President Park Geun-hye calls 'Asia's paradox', the disconnect between economic interdependence and backward political and security cooperation. Any further economic integration will likely reflect political power shifts in the region.
Between 1990 and 2012, intra-regional trade among the ASEAN+3 nations increased from US$562 billion to US$4,436 billion. This represented 38 per cent of the region's total trade in 2010, up from 28.6 per cent in 1990. In 2011, the share of trade in intermediate goods in East Asia was 56.9 per cent, while only 28.2 per cent of trade was in final goods.
Economic integration in East Asia is also gradually expanding to include India, Australia and New Zealand. In 1990, intra-regional trade in ASEAN+6 accounted for only 31.3 per cent of East Asian trade. By 2012, it had increased to 41.2 per cent. East Asian countries are more robust than in the past.
Economic integration among East Asian countries goes beyond trade to include investment and production. They are deepening economic integration by creating a virtuous circle of investment, production and trade.
At the same time, it is said that intra-regional trade does not properly reflect trade integration in East Asia. The intra-regional trade index tends to increase as the number of participating countries increases or when a large trading nation without a regional bias in trade is included. But it may be more precise to use alternative indices such as the intra-regional trade intensity or the regional trade introversion index. Intra-regional trade intensity in East Asia has been largely constant — not increasing — for the last three decades. It is still lower than that of the North American Free Trade Agreement and of the European Union.
So how much further can the scope of economic integration expand? The United States is in the middle of negotiating the Trans-Pacific Partnership and China is floating ideas for the Free Trade Area of the Asia-Pacific. This shows that economic integration and regionalism are not just purely economic phenomena. They are also political constructs.
Economic integration in East Asia is not just regional — it has a global context. Intra-regional trade intensity has not increased because the region maintains a triangular trade structure: production occurs within the region but final goods are then exported out of the region. Even after the East Asian economies supposedly decoupled from the Western countries following the global finance crisis, the triangular trade structure has not changed.
What is changing is that East Asian countries are beginning to depend more on China for trade. China has been South Korea's top trading partner since 2004. South Korean trade with China increased from 22.1 per cent in 2007 to 24.2 per cent in 2011. In the same period, its trade with the US and Japan declined. South Korea's dependence on China for trade continued to increase even during the global financial crisis.
Asymmetric interdependence — the situation where the less dependent country can use its power to influence outcomes — with China is a reality for many East Asian countries. While the rise of China is obviously an economic opportunity, these countries may encounter significant risks in coming years. In particular, China's stance toward neighbouring countries has changed from a charm offensive to more aggressive foreign policy.
East Asia has so far been unable to turn its ever-increasing economic interdependence into institutionalised cooperation, giving East Asian regionalism the nickname 'soft regionalism'. But the rise of China may give more context to East Asia's current wave of economic integration. The next question is how and why East Asian countries will engage with or hedge against China in economic terms.
Seungjoo Lee is a professor of Political Science and International Relations at Chung-Ang University, Seoul.
Link:  http://www.eastasiaforum.org/2015/07/11/the-politics-of-asian-integration/