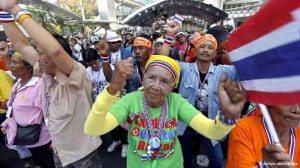 Thailand's constitutional court has rejected an opposition call to annul elections held earlier this month. The court ruled there were insufficient grounds.
The Constitutional Court said in a statement that it had declined to consider the petition by Wiratana Kalayasiri, an opposition Democrat Party lawyer, to nullify the February 2 vote because there were insufficient grounds.
The opposition's legal challenge was based on the failure to hold the entire election on the same day.
"This case is over," said Kalayasiri. "But if the government does anything wrong again, we will make another complaint."
The general elections had been called by Prime Minister Yingluck Shinawatra in an attempt to end three months of street protests by demonstrators calling for her resignation.
The Democrat opposition party boycotted the polls in a show of solidarity with the protesters, led by former Democrat members of parliament.
More than 10 percent of the polling stations were closed down on February 2 as anti-government protesters blocked election officials from bringing ballots to the stations and stopped people from casting their ballots. There were no candidates in about 28 constituencies as demonstrators blocked the registration process.
The protesters want Yingluck to stand down to make way for an unelected "People's Council" to bring in reforms to tackle corruption and alleged vote buying before new polls are held.
Yingluck's opponents say her government is controlled by Yingluck's billionaire elder brother Thaksin Shinawatra. He was the Thai premier until he was ousted in a military coup in 2006. He fled Thailand in 2008 to avoid a two-year jail sentence for abuse of power and now lives in Dubai.
Regional support
There is strong support for Thaksin in the northern half of Thailand, but opposition support in the south and in the capital, Bangkok. Pro-Thaksin parties have won every election for more than a decade, most recently in 2011 under Yingluck. She will remain in a caretaker role with limited power over policy until there is a quorum of 95 percent of the 500 seats in the lower house of parliament and a new government can be appointed.
Earlier this week, the Electoral Commission announced new election dates for April. People blocked from voting in an advance poll on January 26 are to vote on April 20 and people prevented from participating in the February 2 poll will vote on April 27.
Protest leaders have called for a two-day protest starting on Friday.
(Deutsche Welle)
http://www.dw.de/thailand-constitutional-court-rejects-opposition-request-to-annul-election/a-17425779