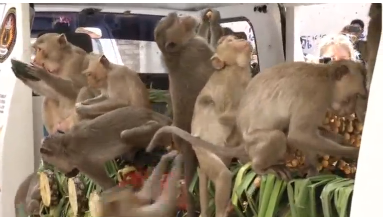 LOPBURI, THAILAND (Reuters) — A province in Thailand famous for its monkey population laid out an annual fruit buffet on Sunday (November 27) to thank them for bringing in tourists and helping the local economy.
The event in Lopburi province, also known as the "Monkey Province", is for the thousands of Crab-eating Macaques, also known as Long-tailed Monkeys, which live there.
The monkeys have the run of the town, climbing over buildings and onto visitors. Most are harmless but some apparently like to nip.
"Sometimes just like a little bit because one bit me yesterday, so that was…I was surprised but I guess it was just a bad one that was less kind but the other was was really kind and friendly, so yes, they're fun but I guess we only need to be a bit careful," said Linda Tarvida, 31, from Latvia.
This year's buffet went ahead even though Thailand is in mourning for revered King Bhumibol Adulyadej who passed away in October. Organisers said the event was toned down as a sign of respect during the one-year mourning period.
"This year we are still in mourning because of the king's passing, therefore, we continued this festival in a appropriate manner. We can't just not hold one this year as we've been doing them for the past 27 years, so we've stuck to the most appropriate style in the 28th year. There are more monkeys this year than last year, so that's why we loaded the fruits onto three trucks and delivered them around town," said organiser Yongyuth Kitwatananusont.
There are approximately 3,000 monkeys in the city area of Lopburi. Event organisers say there are about 7000 more scattered around the province.