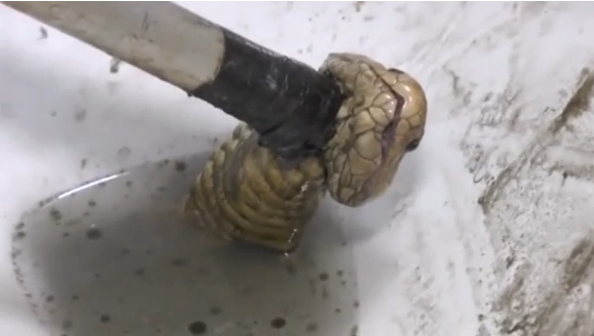 PATHUM THANI, Thailand (Reuters) — A Thai man narrowly escaped a snake attack on Sunday (June 5) as a cobra emerged from his toilet bowl in the second such incident reported in Thailand in about two weeks.
Twenty-seven year old Pollapat Laokamnerdpetch told local media he spotted the cobra, popping its head out from the toilet bowl. After rescue officials were called in, the cobra managed to disappear in the toilet pipes.
It took 30 minutes for the rescue team to lure the 1-metre long cobra out by opening up the septic tank, spraying in pesticides, local media reported.
Once caught, the cobra was transferred to Queen Saovabha Memorial Institute in Bangkok, which specialises in handling venomous snakes.
The incident comes shortly after another man in Chachoengsao province was attacked by a Python in his toilet.