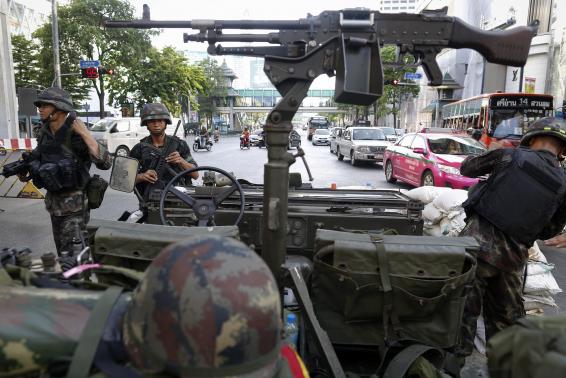 Thailand's army announced on Tuesday (May 20) that both pro- and anti-government protesters were to remain where they are and not march anywhere, in order to prevent clashes.
"All political groups must stop moving from place to place, " said a statement being read on Thai televisions.
The army declared martial law nationwide on Tuesday to restore order after six months of street protests that have left the country without a proper functioning government, but denied that it was staging a military coup.
While troops patrolled the streets of Bangkok, the caretaker government led by supporters of self-exiled former premier Thaksin Shinawatra was still in office, military and government officials said. Ministers were not informed of the army's plans before the surprise announcement on television at 3 a.m. (2000 GMT on Monday May 19).
Army chief General Prayuth Chan-ocha said the military was taking charge of public security because of violent protests that had claimed lives and caused damage. Nearly 30 people have been killed since the protests began in November last year.
[Reuters wires]