BAGHDAD Mon Jul 21, 2014 4:30pm EDT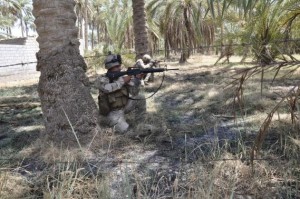 (Reuters) – Ten people were killed, including a mother and three children, in a government air strike on a militant-controlled town north of Baghdad on Monday, hospital sources and witnesses said.
The attack targeted the town of Hawija, 230 km (140 miles) from the capital, which is controlled by Sunni Muslim insurgents from the Islamic State and other groups opposed to Iraq's Shi'ite-led government.
A tribal leader and former army officer said the dead were all civilians, and also included an elderly couple. He blamed the deaths on the militants for locating a base in the center of the town.
Hawija has also seen infighting between the insurgents, with jihadist Islamic State fighters clashing in June with the Naqshbandi militants, made up of former army officers as well as loyalists of Saddam Hussein's former ruling Baath party.
The army, backed by Shi'ite Muslim militias and volunteer fighters, has been trying to push back the Sunni insurgents since they took over the northern city of Mosul on June 10 and swept south towards the capital.
The army's attempt to regain the city of Tikrit stalled last week in the face of insurgent defense and it has yet to recapture significant territory.
Further north, the Islamic State has been consolidating its control, driving Christians out of the city of Mosul with a weekend ultimatum to either convert to Islam, pay a religious levy to the hardline Islamists, or face death by the sword.
On Monday, Islamic State fighters took over Saint Behnam monastery 30 km (20 miles) southeast of Mosul, ordering a monk and his assistant to leave, a church official and a Christian resident in the area said.
Also on Monday, gunmen from the Shi'ite militia Asa'ib Ahl al-Haq seized 22 men from a village in Diyala province near the town of Baquba where they believed Sunni insurgents were operating, a colonel in the Baquba police force said.
(Reporting by Mustafa Mahmoud; Editing by Angus MacSwan)