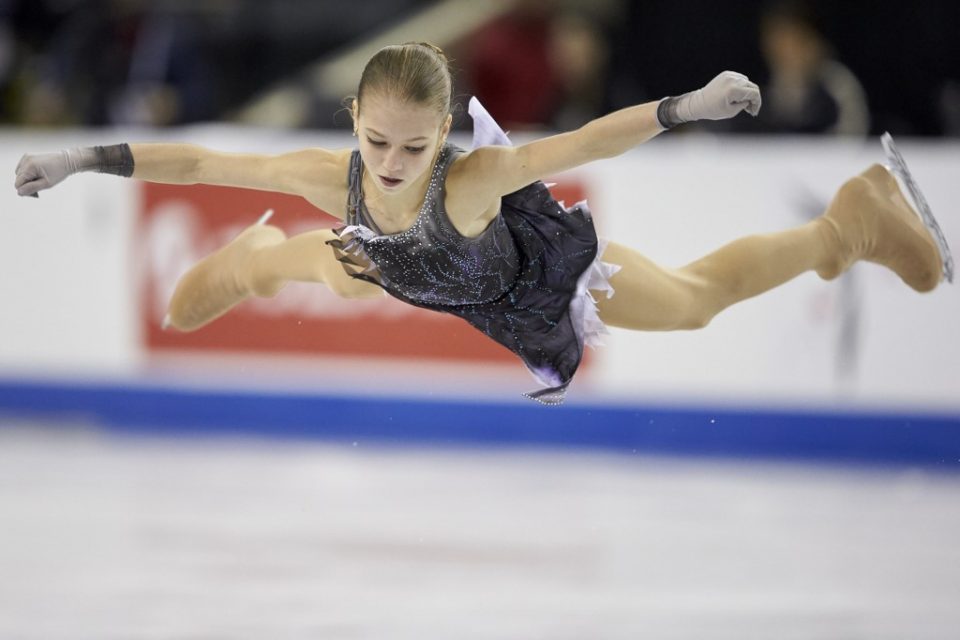 OTTAWA, Canada (AFP) — Russian teenager Alexandra Trusova capitalized on errors by her rivals to win her first senior Grand Prix victory on Saturday at Skate Canada.
The 15-year-old from Moscow took the title after nailing three quadruple jumps in her winning routine.
That was good enough to lift her over short program leader Rika Kihira of Japan and South Korea's You Young.
Both Kihira and You were left counting the cost of mistakes as they attempted triple Axels.
Skate Canada is the second event of the International Skating Union's Grand Prix season, and is taking place in Kelowna in western Canada.
Trusova, who fell on her first quad, meanwhile posted the highest scores of the season after earning 166.62 points for the free skate for a total of 241.02.
Kihira, 17, was 10.68 points behind for silver while You ended with bronze in her first senior outing on the Grand Prix circuit.
Trusova is the youngest winner of a Grand Prix event since 2015 world champion Elizaveta Tuktamysheva won on the circuit in 2011.
Two-time Olympic champion Yuzuru Hanyu of Japan roared to victory in the free skate to claim gold in the men's category.
Crowd favourite Nam Nguyen of Canada rose to the occasion to take the silver medal and Japan's Keiji Tanaka pulled up to claim the bronze.
Skating to "Art on Ice" Hanyu raised the roof with his dazzling performance, that included four quadruple jumps to rack up an overall score of 322.59.
Earlier Saturday, Canada's Piper Gilles and Paul Poirier upset two-time World Ice Dance medallists Madison Hubbell and Zachary Donohue of the United States to win their first Grand Prix gold.
British duo Lilah Fear and Lewis Gibson took bronze to claim the first Grand Prix medal of their career.
Gilles and Poirier scooped gold after a routine set to Joni Mitchell's "Both Sides Now", impressing with a combination spin, combination lift, straight line lift, twizzle and one foot step sequence.
"We've worked really hard for this moment," Gilles said. "I think we really trusted our training and knew exactly what we needed to do when we came here.
"We just went for it and skated today's program and that's all that we can do," Gilles added.
In the pairs, the Russian duo of Aleksandra Boikova and Dmitrii Kozlovskii claimed their first Grand Prix gold medal while Canadians Kirsten Moore-Towers and Michael Marinaro skated to the silver.
© Agence France-Presse